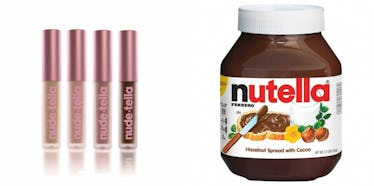 Nutella-Flavored Lipsticks Exist & It's Going To Be A Very Hazelnut Holiday
Beauty Bakerie/Nutella
Out of all of the cravings to have in the world, a sweet tooth is my vice. I love anything involving chocolate, and the first time I tried Nutella at the age of sixteen, I became hooked. So when I heard about Beauty Bakerie's Nude-tella lipsticks, which are scented with the hazelnut yumminess of Nutella, I actually drooled a little bit.
Inspired by chocolate, Nude-tella Matte Liquid Lip Whip Flavors ($60, beautybakerie.com) boast four new lip shades with cheeky names like Nudi-Tea, Skinny Dip, Birthday Suit and Bake it Naked. Besides the lolz-worthy monikers, these lippies provide creamy matte coverage and actually smell like Nutella. Next time you're craving a Nutella croissant, swipe on one of these liquid lipsticks and you'll be transported to the French Riviera. And then actually eat a Nutella croissant.
Unlike chocolate, which can melt everywhere and accidentally end up allover your chin, the formula for this product promises that it is smudge-proof, waterproof, and vegan. Whether you're parked next to the dessert table at your company holiday party, or planning to get snogged under the mistletoe, this liquid lipstick is not going to budge. If you're not already clicking "Add to Cart," the reasoning behind the launch will provide the final, irresistible push.
The delish lippies were created to promote diversity in the beauty industry. Founder Cashmere Nicole aimed to make a lipstick inclusive to women of color. As a black woman, I know how difficult it is to find the perfect nude. Shades that are classified as "better than your lips" don't work for me, because my lips are an interesting mix of pink and brown.
The shades are varying degrees of nude, and luckily, you don't have to choose between 'em because they com in a set. If you're looking to rock a simple pink, Nudi-tea or Birthday Suit would be great. The deeply-pigmented Bake It Naked fulfills all of my '90s dreams. I'm getting so many Aaliyah and Moesha vibes from it, and this pleases me.
As a color, Bake It Naked is super versatile. You can rock it during the day with a cozy knit and riding boots, or at night for a sexy but simple brown moment. The light pink Skinny Dip will suit any pastel lover, but I'm not sure I could sport it. Actually scratch, because the set is intended to inspire women like me to step outside of our comfort zone and experiment with colors that were deemed "not fit for us." Just ask founder Cashmere Nicole:
The inspiration behind creating the Nude-tella Matte Lip Whip line came from wanting to reduce frustration with representation. So I wanted to create a product line that provides nudes for everyone, hence the set's tagline 'my nude is not your nude'.
If you're unfamiliar with Beauty Bakerie, the brand's goal is to create scents and shades for every skin tone. From powdered sugar to dark chocolate, Nicole is all about promoting diversity and expanding the definition of "nude." Their bakery-inspired line includes products ranging from liquid lipsticks, setting powder, and illuminators to eyebrow gel, eyeshadows, and eyeliners.
As a female CEO and founder, Nicole's story is just as inspiring. She decided to create a long-lasting line of beauty products after spending time watching her mother get ready for work. Beauty Bakerie began as a one-woman operation, after Nicole put herself through college and nursing school (as a single mother). Nicole's goal was always to give back, and she harnessed Beauty Bakerie to raise awareness for breast cancer.
Years later, Nicole herself was diagnosed with breast cancer and went through a double mastectomy, all the while continuing to work on Beauty Bakerie. I'm obsessed that Nicole's main goal is to "uplift and inspire the beautiful faces of the skin tones and ethnicities that span over 100 countries." If a Nutella-inspired product isn't genius enough already, just wait: Queen Bey is also a fan of this brand.
So get on with your Beyonce-approved, Nutella-flavored lipstick this holiday season, and feel 100 percent amazing about supporting a fantastic brand.