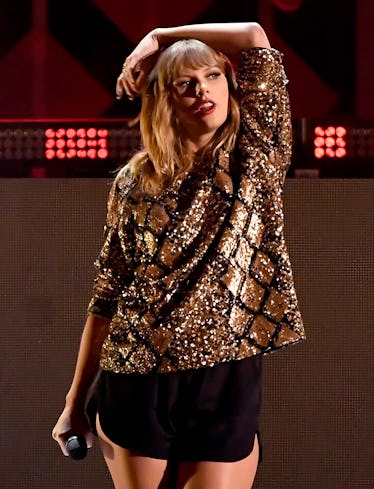 This Reporter Told Taylor Swift To Take A Shower & Twitter Is So Not Here For It
Kevin Winter/Getty Images Entertainment/Getty Images
It's not often that Taylor Swift graces us with an interview, but when she does, we should be grateful. Well, after performing for BBC's Biggest Weekend Concert, BBC's Greg James told Taylor Swift to take a shower, and it looks like Twitter has some things to say about it. Yikes.
On May 27, after finishing up a strenuous performance for BBC's sponsored Biggest Weekend Concert, Taylor Swift stopped by to chat and catch up with BBC for a recorded interview. Naturally hours of dancing, singing, and overall slaying simultaneously can break a sweat, and unfortunately James just had to bring it up.
"We'll see you very soon," James said at the end of the interview. "It's nice to see you. I think you need to have a shower now."
Is anyone else completely cringing right now? Things definitely could have taken a turn in this interview after James said that, but lucky for him Swift laughed it off and even said she "agreed with him" and "wasn't offended" that he said that. What a trooper.
I'm sure the James was completely joking, but personally I'd like to see him hit that stage and perform for hours without getting sweaty.
Jokes or not, everyone knows that T-Swift fans will defend their queen until the end of time, and these tweets prove that people were not feeling James' comment.
Even though plenty of people were pretty ticked off, others defended the journalist by saying it was all in fun, and just British humor.
Although the comment could have been taking the wrong way, Greg James and Taylor Swift actually have a great track record, and have shared some unforgettable moments together. In 2014, the two performed Swift's hit single "Blank Space" while driving around in a car for BBC. Plus, judging from the outtakes, it looked like they were having a complete blast while doing it.
To be real, Taylor Swift has way bigger things to worry about than being a little sweaty. The pop icon just kicked off her 2018 Reputation world tour, and from what I've seen it looks like her most impressive one yet. From huge snake sculptures to amazing choreography, I'm so bummed that I won't be able to jam out with the woman herself. Also, on March 1, Swift confirmed that Camilla Cabello and Charli XCX would be her two opening acts for the world tour. There's nothing I love more than seeing three powerful women hitting a stage together. This honestly just keeps getting better and better.
Even though I may be super excited to see Cabello open for Taylor Swift, fans of former girl group Fifth Harmony aren't necessarily the biggest supporters of Cabello's solo career. In March, rumors started flying that Cabello had left the group because of Taylor Swift, but the Cuban singer quickly shut all criticism during an interview with The Sun.
She said,
It annoyed me that people said she was encouraging me because I know that she probably got a lot of negative criticism for that. Absolutely nobody could ever persuade me to do something. If I don't want to do something the whole world could be telling me and I won't do it. And if I do then the whole world could be telling me to not do it and I'll do it. I've always been that way. To be honest with you, she's never ever had anything to do with that.
Leave it to society to try to bring down two strong female friendships. I can't wait to see all the other incredible performances Swift has to offer us on this world tour.
And Taylor, feel free to get as sweaty as you need.