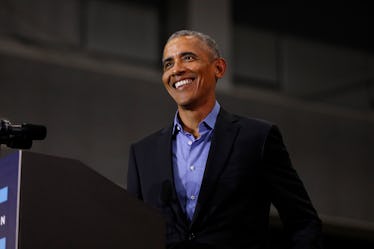 Barack Obama Shared The Perfect Tweet To Honor Hanukkah
Bill Pugliano/Getty Images News/Getty Images
Sunday, Dec. 2 marked the start of Hanukkah, the eight-day Jewish holiday that celebrates the rededication of Jerusalem's Second Temple. In honor of this holiday, a number of people took to social media to kick off the celebrations, and Barack Obama's tweet about Hanukkah encapsulates joy. Hanukkah Sameach, everyone!
On Sunday, Dec. 2, President Barack Obama took to Twitter to wish everyone a happy start to Hanukkah. Not only is Obama's message celebratory, but it's a thoughtful tribute honoring the important Jewish holiday. He wrote,
Happy Hanukkah! Over these eight nights, we draw inspiration from light that can overpower any darkness, and recommit ourselves to building a brighter future for our families, our communities, and our world. Chag Sameach from the Obama family to yours.
For years, Obama has taken it upon himself to kick off the beginning of Hanukkah through thoughtful words and special occasions. Whether it's hosting the White House Hanukkah party or issuing formal Hanukkah greetings at receptions, Obama is clearly a man dedicated to serving every citizen equally.
Hanukkah kicked off Sunday, Dec. 2 and will end on Monday, Dec. 10. So, in case you've forgotten to wish anyone a special "Chag Sameach," you've got a few days to make it count.
During the eight days of Hanukkah, people will enjoy beloved Jewish traditions including a nightly menorah lighting, family games, special prayers, and tons of delicious food. Even though this holiday is a beloved event by many, it's never been more important to honor those celebrating than this year.
On Oct. 27, an armed gunman opened fire inside the Tree Of Life Synagogue in Pittsburgh, Pennsylvania, which killed 11 people. The gunman reportedly yelled anti-Semitic slurs before opening fire inside the synagogue, which has led to discussions surrounding the huge problem of anti-Semitism plaguing the United States today. Despite these struggles, the leaders of Tree of Life aren't letting fear overshadow their holiday celebrations. On Sunday, Dec. 2, the Pittsburgh synagogue held a public menorah lighting outside the doors as a way to honor the lives lost and looking towards the light of the future.
"To me, it's a simple message: The light is the message," Rabbi Jeffrey Meyers told a crowd attending the menorah lighting, per USA Today.
The October synagogue shooting marks the deadliest attack on Jews inside the U.S. Following the attack, President Obama responded to the tragedy via Twitter, in which he expressed his deepest sympathies for the families of those affected (and pushed for stricter gun control). He wrote,
We grieve for the Americans murdered in Pittsburgh. All of us have to fight the rise of anti-Semitism and hateful rhetoric against those who look, love, or pray differently. And we have to stop making it so easy for those who want to harm the innocent to get their hands on a gun.
Hanukkah is holiday that should be joyfully celebrated with family and friends. Therefore, let's hope 2019 proves to be a year that pushes against hate, discrimination, and violence and instead promotes inclusivity and acceptance.