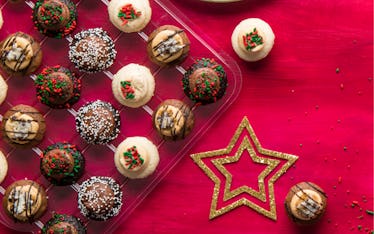 These Adorable Mini Holiday Cupcakes From Baked By Melissa Are A Super Festive Treat
Courtesy of Baked by Melissa
Finding the perfect gift to give for the holidays can be next to impossible sometimes. Certain people (I'm looking at you, mom and dad) are just truly hard to shop for. Chances are you've probably got one or two of these people on your list this year. So, what do you get the person who has everything? Sweets, of course. Thankfully, Baked by Melissa's 2018 holiday cupcakes are a sweet gift for anyone on your list.
As you make your holiday gift list and check it twice, make sure you add on a few packages of Baked by Melissa cupcakes. The bakery is selling its delicious holiday cupcake collections starting at $28. If you aren't headed home for Christmas, not to worry. All of Baked by Melissa's holiday cupcake packs can be shipped around the country. Here are some of the tasty treats that you can buy for a friend or family member this holiday season. (Oh, and don't forget to buy yourself a box, too. It's been a wild ride this year and you deserve all of the presents.)
Baked by Melissa's Festival of Bites bundle comes in three sizes: 25 cupcakes ($28), 50 cupcakes ($56), or 100 cupcakes ($112). This features cupcakes from the bakery's Hanukkah collection including flavors like Frosted Doughnut, Snowcap, Marshmallow, and Magic Cookie. Of course, all of these cupcakes are kosher and adorned with blue and white accents for the perfect Hanukkah treat. (If you want to send these flavors in a pretty gift box, check out the Winter Wonderland collection.)
There is also a Holiday Cheer pack that's like Christmas in a box. Each cupcake features red and green sprinkles for a super festive bite. You can get the Holiday Cheer bundle in 25 cupcakes ($28), 50 cupcakes ($56), or 100 cupcakes ($112). The box features four flavors including Chocolate Caramel Cookie Dough, Magic Cookie, White Chocolate Pretzel, and Snowcap.
Baked by Melissa is also selling other holiday cupcake options like the Jingle Bites bundle. This includes four boxes of six different holiday cupcake flavors for $39.80. The tiny package is perfect for your Secret Santa party at the office or giving to multiple family members as a holiday treat. If you are one of those people that celebrates Christmas and Hanukkah, check out the Chrismukkah box from Baked by Melissa. It's the same concept and price as the Jingle Bites bundle, but it features two six-packs of Christmas cupcakes and two six-packs of Hanukkah cupcakes for a well-rounded gift.
Baked by Melissa is based in New York City and was founded by Melissa Ben-Ishay. The bakery specializes in bite-sized cupcakes of all flavors and varieties. If you're in NYC, make sure to stop by one of Baked by Melissa's 14 locations, not just during the holidays, but any time of the year. It's been a while since I've had a tiny cupcake from Baked by Melissa, but the bite-sized baked goods are one of my favorite treats.
If you are thinking about ordering any of these to put under the tree this year, make sure you to do it soon. The holidays are already in full swing. Consider this your friendly reminder that all of these holiday flavors from Baked by Melissa are available until New Year's Eve, which takes place on Monday, Dec. 31 this year.