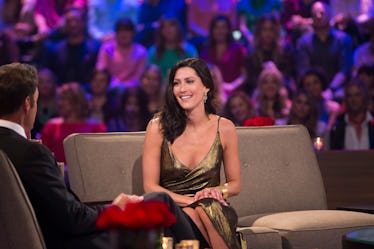 Becca Reveals Her Biggest Fear About Being The 'Bachelorette' & TBH, We Get It
ABC
The wait felt long, but now we only have a few more weeks until Becca Kufrin's season of The Bachelorette premieres on May 28. Becca is going into her season with perhaps more support than any previous franchise lead, but that hasn't stopped her from experiencing some doubt throughout her filming process. Bachelorette Becca has revealed her biggest fear about being the object of 20-plus men's affections on TV, and it makes total sense. She may not have to make any more racecar puns, but coming across another Arie Luyendyk was definitely a concern before Becca started filming.
Speaking to Entertainment Tonight, Becca spilled that experiencing deja vu while filming The Bachelorette was a huge fear. I mean, after watching Arie, I wouldn't want a salt-and-pepper haired cardigan lover with the conversation skills of a wall coming out of the limo either. The fact that he dumped Becca weeks into their engagement to pursue runner-up Lauren Burnham doesn't help either. Becca told ET:
My biggest fear is, I mean, kind of what happened. Like falling for somebody and ready to spend my life with somebody and have them not be ready or to be like, 'I don't know if you're the one for me.'
I hope it's safe to say that any man recruited for The Bachelorette wouldn't intentionally try to recreate the Arie-Becca fiasco, but with Bachelor in Paradise on the horizon, you never know how low some people may stoop. Luckily, it seems that Becca paid special attention to her men's intentions, telling ET:
I'm trying to weed out the drama as early as possible. Like, I don't want drama. If there's a guy that's not meshing well with the other guys, I probably won't want to keep him around that long.
Yas, girl, make Uncle Gary proud!
Season 14 of The Bachelorette began filming soon after Becca was announced as the new lead on "After the Final Rose" in early March. The timing of the turnover between Bachelor and Bachelorette is a little crazy, but now that the premiere is approaching, Becca likely finally has some time to step back and breathe (alongside her new fiancé, perhaps?).
I'm not trying to spoil myself, but I'd wager that Becca making a lasting match on the show is very likely. She told ET:
At the end of the day, I will make that right choice, because I'm not going to take this situation lightly. I'm not going to let everything else get to me when it's that big of a decision for my life.
Such a fierce answer finally makes me understand why ABC decided to promote Becca as an "independent woman." The network trying to convince us that The Bachelorette is flawlessly feminist always makes me cringe a little, but I love that Becca is clearly living her best life in the show's first promo footage. You do get some bonus points for including Becca's great reunion with her Bachelor gals, ABC.
Five of Becca's contestants were introduced on "After the Final Rose," while Us Weekly later confirmed that NFL player Clay Harbor was joining the new season's cast. Now that it's finally May, we can also expect ABC to soon reveal the full cast and their so-bad-they're-good contestant bios.
Becca has yet to tweet since becoming the Bachelorette, but I have my fingers crossed that she'll join the ranks of the women before her and start live-tweeting the season. Given that she's also popped up in recent Instagram photos with fellow Bachelor Season 22 women Caroline and Tia, maybe we even have cameos from past contestants to look forward to this season.
We wish the best to Becca as her season begins in full swing. Season 14 of The Bachelorette premieres on Monday, May 28, at 8 p.m. ET on ABC.