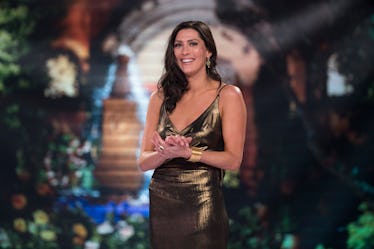 'Bachelorette' Becca K.'s Tattoos Are So Subtle, But So Powerful
ABC/Paul Hebert
It's possible that Bachelor Nation knows too much about the next Bachelorette, Becca K. After falling for Arie during Season 22, Becca was about to find true happiness before Arie ripped it away. An engagement, a break up, some invasive unedited footage, and another engagement later, fans finally know what went down in the Becca/Arie/Lauren B. love triangle and that Becca ultimately came away with the real prize: a chance to find love again on The Bachelorette. But for all fans do know about the Minnesota native, there's one thing I still have questions about: Bachelorette Becca K.'s tattoos. Becca has never opened up about what her tattoos mean, including the one that appeared on her wrist in the finale, but I have a few guesses about the meaning behind the ink.
Unlike many of her fellow contestants, Becca is pretty low key, and her tattoos reflect that. She has four small tattoos: one on her right foot, one on her right wrist, one on her left wrist, and one on her right hand. Becca wasn't alone in displaying some ink on Arie's season of The Bachelor, however. According to their ABC bios, 12 of the 29 women (including Becca K.) who competed for Arie's heart have at least one tattoo, and most of them have more than one. But none of The Bachelor contestants ink interests us as much as the Bachelorette's, especially the new one that Becca showed off during the dramatic finale.
The Bee On Becca's Left Wrist
This is the tattoo that will forever live in infamy. During Part 1 of the finale on Monday, March 5, Arie headed to Becca's apartment to break up with her, leading to the most awkward, drawn out interaction two humans on planet Earth have ever had. At one point during Arie's prolonged goodbye, he asked his now ex-fiancée about the new tattoo on her left wrist, saying, "Oh, you got it." Viewers couldn't really see the tattoo Arie was referencing, but Twitter users immediately insisted that the new ink is some kind of bee or bug. Other fans responded with desperate hope that the new tattoo had nothing to do with dirtbag Arie.
Of course, fans don't know what the bee represents or if it has anything to do with Becca's relationship with Arie (maybe an inside joke between the two of them?). But if it does have something to do with Arie, I have some ideas about how Becca can change the narrative around that bee tattoo. Maybe add a big foot running down her arm that squashes the bee? Or use the wings to turn the tattoo into a "W," as in "Whatever, loser"? If Becca is willing to be creative, the opportunities to be petty are endless.
The Cross On Her Right Hand
Of all of Becca's tattoos, this one is the easiest to guess the significance of. Becca is openly religious, and she's talked on The Bachelor about how faith plays a big part in her identity. During the hometown dates, her Uncle Gary, who stepped in to be a father figure after Becca's dad passed away, asked Arie about how he feels about going to church with Becca and about his own religious views. Uncle Gary is a pastor and clearly understands that Christianity is important to his niece, so it was no surprise that he chose to bring up the subject with the Bachelor.
The Bible Verse On Her Right Wrist
Right below the cross tattoo, Becca has a tattoo that says "Psalms 61:2," a popular Bible verse. "From the end of the earth I will cry to You, When my heart is overwhelmed; Lead me to the rock that is higher than I," the verse says in the New King James Version of the Bible.
The Mystery Tattoo On Her Foot
Becca's last tattoo is on her right foot, but it's pretty difficult to get a good look at what it says. I mean, most people don't go around taking close-up pics of their feet, right? From what I can tell, the tattoo looks like some kind of name or maybe even a date. Perhaps she got the tattoo in honor of her father, who passed away in 2009 from cancer? Hopefully, Becca will clear this one up for curious fans in the near future.