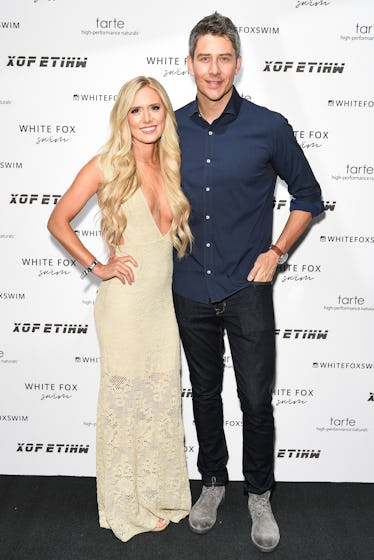 Big News, Bachelor Nation: Arie & Lauren Officially Welcomed Their First Child
Presley Ann/Getty Images Entertainment/Getty Images
Bachelor Nation just grew by one more citizen. Bachelor couple Lauren and Arie Luyendyk's baby is finally here, and celebrations are in order. The former Bachelor announced the couple's happy news via his Instagram Stories on Wednesday, May 29. He wrote, "We have a BEAUTIFUL baby girl 6 lbs, 13 Oz. 20cm Long. Mommy and baby are doing great, we are so incredibly happy." The baby girl does not have a name yet, but she does have her own Instagram account, so chances are good that fans will get to learn her name soon via social media.
Arie and Lauren have been sharing each step of their pregnancy journey, beginning with their pregnancy announcement in November 2018, which was done with a photo shoot with Us Weekly. In an interview with Us, Lauren said that the fact that she was expecting came as a surprise. She said:
I kind of had a feeling that I might be pregnant. So my friend insisted on bringing a pregnancy test over. Arie came out with the test in his hand and tears in his eyes. He was like, 'You're pregnant!'
After that, the couple drove to the store and picked up an additional six tests. Arie said, "Lauren took all of them and they were all positive. We weren't trying, but we are so excited. It's going to be a whole new chapter in our lives."
Even with all the surprises, Arie said in his Instagram post announcing the pregnancy that finding out about Baby Luyendyk was "so special." He wrote in his caption:
Nothing compares, absolutely nothing compares to the moment you find out you're going to be a dad! We cried, we laughed and it really was such a special moment for us, we're so freakin' happy!
Since then, the Bachelor couple have been giving fans weekly updates of the pregnancy, right up to the moment Lauren checked into the hospital.
The caption on the post reads: "Is it time yet? #39weekspregnant" Spoiler alert: It was time. Arie also posted a sweet picture of the couple as they checked into the hospital, with the caption, "IT'S HAPPENING!"
Arie and Lauren have a lot to celebrate. They're still basking in the glow of their January wedding, which took place in Hawaii and was officiated by none other than Bachelor host Chris Harrison. In honor of the wedding, Harrison posted on Instagram and wrote, "My blessings and prayers to Mr & Mrs Luyendyk and baby Luyendyk on the way."
It's really sweet to think that this new baby girl has been with Arie and Lauren for some of their most meaningful moments. Now that she's arrived, the Luyendyk family has grown. Arie told Us that he "be such a softie" and that "Lauren is a little bit more of the disciplinarian," but only time will tell if that proves to be true. Since the couple was really open about Lauren's pregnancy, it's likely that Bachelor Nation can expect plenty of parenting updates from the Luyendyks too.