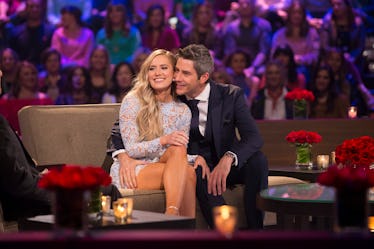 Arie & Lauren Bought A House Together & Of Course They Posted It On Social Media
ABC/Paul Hebert
For some engaged Bachelor couples, a stint as a dual Dancing With the Stars competitor and supporter is often their grand return to TV and general relevance. But then you have Arie Luyendyk Jr. and Lauren Burnham, who have kept us so posted on their lives via social media that it's like they never left our screens. We followed their adventures through Europe and Iceland, watched them move Lauren across the country to Arizona, and gritted our teeth through their wedding announcement, so now it only makes sense that Bachelor Nation knows exactly what comes next. Arie and Lauren bought a house together, and it wouldn't be true Laurie style (Arien? Burndyk?) if they didn't post pictures about it.
After revealing in April that they purchased a 2,607 square-feet home in Phoenix, Arizona, Arie and Lauren are now officially homeowners. They both recently posted photos of themselves in front of their new house, and if you didn't already feel that their online presence captures their personalities to a T, these pics will be the ultimate proof.
Totally fitting along with his dad jokes and his self-proclaimed love of going to bed early, Arie wrote on his photo, "Officially new homeowners! Annnnnd I have blue pants to match our door."
I can already see a teenage daughter rolling her eyes and going, "Daaaad."
As for Lauren, her caption was sweet and simple, as her Instagram continues to prove that is how she is. She wrote alongside a similar-looking photo, "Officially new homeowners!" You're doing amazing, sweetie.
Since Arie's breakup with his Final Rose recipient Becca Kufrin aired and he proposed to Lauren on the live "After the Final Rose" special in March, the two have definitely taken the fast lane in building their life together. Shortly before Becca's Bachelorette season premiered, Arie and Lauren announced on The View that they're getting married in Hawaii on Jan. 12, 2019. Arie also revealed in the interview that the wedding won't be televised, saying:
It's in Maui — it's at Haiku Mill which has this beautiful, old world feel with a lot of vines and greenery. It's not your typical beach wedding. And it's a private wedding, so not on TV — just a close group of friends. Probably 100 guests.
However, based on the usual Bachelor premiere dates in early January, the ceremony will still take place about a week into a new Bachelor season. Because a Bachelor couple can't get married without their old producers and Chris Harrison there too, right?
While Arie's onetime fiancé Becca has said that she'd go to their wedding if she was invited, Arie has been quite direct about the current Bachelorette not being among the invited show alums. When he and Lauren spoke to Us Weekly about wedding planning, Lauren mentioned wanting to invite some of her Bachelor friends. Arie then said:
Yes, I wouldn't mind. And just tell Becca she's not invited.
Whew. I think this is a wedding Becca won't mind skipping.
Apart from planning out their big day, the couple has kept busy by preparing Lauren for real estate work alongside Arie, who also works as a racecar driver. Once they tie the knot, it seems that kids will come sooner rather than later, with Arie telling PEOPLE that he wants two to four children. Catching up on cute photos of Bachelor couples' babies is one of my guilty pleasures, so we could always use more of these adorable additions to Bachelor Nation.
Although many fans still aren't thrilled about the origins of Arie and Lauren's relationship, it's clear that the two are genuinely in love and excited about their life together. Fingers crossed that we'll see plenty of wedding photos in January!