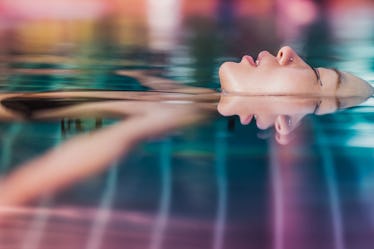 August Will Be The Worst Month For These 3 Signs, But This Too Shall Pass
So, I don't like to start the month on a negative note, but then again, I'm not a liar either. Truth is, there will be good months, and there will be bad months. Unfortunately, August 2018 will be the worst month for these three zodiac signs: Aries, Gemini, and Aquarius. Now, don't let my cosmic analysis be a damper on your current mood. On the contrary, you are in control, stargazer! Granted, astrologers look at the stars, and study current transits, but this doesn't always mean it's going to affect you the exact same way it's predicted. Everyone's chart is completely unique, which is why these aspects can affect you all differently.
For example, maybe you're a Gemini sun with an Aquarius ascendant, a Mercury in Taurus, and a moon in Cancer. Just because you're a Gemini, doesn't mean you embody every single Gemini trait. In this particular case, we'd be looking at a highly emotional person who takes their sweet time to communicate, and makes an eccentric first impression. For the record, Gemini is not emotional... like at all. Also, there's no such thing as a Gemini who talks slow or takes their sweet time to finish a sentence. The day you meet a Gemini who stays on topic for longer than five minutes, don't be afraid to ask them for their natal chart.
Speaking of, here's why August seems like it's going to be a bummer:
Aries: Everything Feels Like A Drag
Oh, Aries. Trust me, I feel your pain. With Mars, aka your ruling planet, in reverse, everything feels like a burden. You're cranky, moody, and lethargic, am I right? Not to worry, this isn't the end of the world. Mars is retrograde for a reason, and its up to you to make the best of it. Take advantage of this time to reflect on the things currently stopping you from moving forward. Yes, you are the warrior of the zodiac, but even a warrior needs to stop and reevaluate the situation from time to time. Who knows, you might discover bold new ways to go to battle. Luckily for you, Mars goes direct on Aug. 27, which means it's back to basics. Hang in there.
Gemini: Your Anxiety Is Beyond Over The Top
Your ruling planet Mercury is hella retrograde, which means you're basically checked out. I know, Mercury's retro-shade hits you and Virgo the hardest, but you know how this goes, Gemini. Although, keep in mind, with Mercury retrograde in Leo, things can feel a little extra, so make sure to put your ego aside. Something else to reflect on is, are you communicating from the heart? Or are you too busy trying to please everyone else? Again, this is exactly why the cosmos slow down. At the end of the day, this is all a learning experience, but nevertheless, I hope you don't keep things to yourself in the process. Mercury is going reverse in your chatty third house of siblings and immediate network, so as per usual, communication will be top of mind during this time.
Aquarius: Your Inner Restlessness Is Getting The Best Of You
Wow, where do I begin? If there's one thing you're good at, it's confrontation. You're not the emotional type, so fighting for what you believe in has never been an issue. However, that is before Mars decided to move backward in your sign, of course. Mind you, we still haven't discussed the fact that you're still not completely over July's total lunar eclipse. Trust me, I wouldn't be either, and to make matters worse, your ruling planet Uranus also turns retrograde on Aug. 7. Yes, this is all happening to you, Aquarius. In the meantime, don't resist it and go with the flow. There are bigger things for you in the horizon.