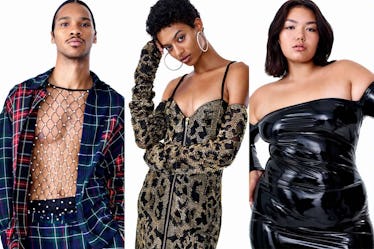 ASOS Just Dropped Their Biggest Designer Collab Yet, & You're Going To Want Everything
ASOS
When accessible retailers collaborate with high-end names and give everyone the chance to shop designer, it's a beautiful thing. Case in point: the ASOS x LaQuan Smith collection, which just dropped yesterday and is chock-full of eye boggling, holiday-perfect pieces that you'll actually be able to afford. Get excited, because Christmas came early this year.
No, Smith's name doesn't ring the same bell as say, Marc Jacob's or Alexander Wang's or Olivier Rousteing's. (Not yet, at least.) But that doesn't mean that he is any less talented or in-demand. The designer counts Beyoncé, Rihanna, Lady Gaga, the Hadids, Cardi B, J Lo, and the Kardashian-Jenners among his clients, and that's just to start. What's more, he's built his empire without a degree in fashion and through hard work and persistence alone.
Known for his figure-hugging pieces that are meant to celebrate the female body in the sexiest of ways, Smith has defined himself as a young design force to watch. And now, his creations are finally accessible to the masses. In an interview with Fashionista in September, when his then-upcoming ASOS collaboration was announced, Smith said, "I'm still growing my brand and this just opens up a lot of doors for other potential partnerships to happen in the future for other brands like mine. A lot of the kids that aspire to wear my clothes and want to be a part these experiences can't necessarily afford it, so I think this is great."
Great is an understatement. The collection boasts an array of body-hugging dresses, layer-perfect mesh pieces, unique outerwear, statement boots, shimmery separates and more that are ideal for holiday party dressing. The best part? The collection includes both men's and women's pieces as well as pieces for ASOS Curve and ASOS Plus. This collection was done right.
Peruse some of the collection's most standout pieces below and shop the entire thing here—it's selling out fast, so if you see something you like, hop on it!
Bombers Away
Even if you never take this embellished coat off at the holiday party you'll still be the best dressed.
Heel Yes
The most badass boots you've ever seen, plus they're padded so they won't hurt to wear day in and day out. Because you know you want to.
Fuzzy Feelings
This faux fur hoodie is the kind of piece you'll want to live in. Its crystal-embellished drawstring renders it the perfect example of high-end athleisure (yes, that exists).
Glitterbug
Show me a more New Year's Ever-ready bodysuit, I dare you.
Flaming Hot
Now this is a coat that could battle even the most frigid of winters. Featuring a long silhouette, fur-lined hood, and quilted material, it's the coolest ultra-warm coat you'll find.
Zip It
Am I the only one getting Kim Possible vibes here? She rules—like these pants.
The Matrix
Because '90s tiny glasses aren't going anywhere anytime soon.
Wild Thing
Leopard everything is trending this season, so why not get it in silky pant form?