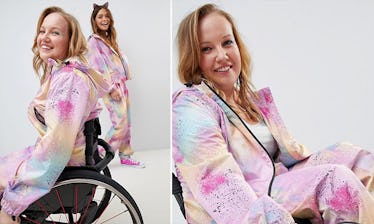 ASOS Developed A Wheelchair-Friendly Jumpsuit & Twitter Is Applauding
ASOS
I know it's ignorant, but I had never contemplated the need for wheelchair-friendly clothing. But now that I think about it, why aren't there options out there? I mean, there's an entire market of people who need a more broad clothing selection, and it's not just about convenience either (though that's a huge part of it), it's about inclusivity. The fashion industry is changing, and ASOS' wheelchair-friendly jumpsuit is at the forefront of it all.
The first significant difference in this collaboration is none other than the collaborator. Rather than team up with an Insta-famous influencer, the British online retailer joined forces with a female paralympian in her twenties who is passionate about charity work. Chloe Ball-Hopkins was born with Arthogryposis and at 4 years old, was also diagnosed with a rare form of Muscular Dystrophy called Nemaline Myopathy. Though she has undergone multiple reconstructive surgeries that have allowed her to successfully stand on her own, she still spends 99 percent of her time in a wheelchair.
She was 21 when she attended a rainy music festival, and because of the lack of wheelchair-friendly clothing options, she wrapped herself in a tarp to try to keep dry. "I was 21 years old at a festival, and I felt that wasn't how I needed to look, or wanted to look," explains Ball-Hopkins in a social media video. "It's not just me in this position. There's a lot of other younger people who are in chairs like me, who want to go to these things and they want to look good," she adds. "There is nothing wrong with that. We are like everybody else."
Ball-Hopkins had a limited amount of options when it came to staying dry at the festival. She could wear a plastic poncho, but that makes it much more difficult to wheel in (and if we're being honest, it's not all that cute either), or carry an umbrella, but she would need to commission a friend to push her all night. After the tarp failed her, she had no choice but to leave early. That was the final straw, but rather than give up on music festivals altogether, or have a single outfit made just for her, Ball-Hopkins thought bigger. She contacted retailers for help, though she secretly hoped for a response from ASOS all along. She says, "I love their kind of ethos around things. The fact that they don't Photoshop their images. The fact that they supply the clothing for the athletes that go to the opening and closing ceremonies at the Paralympics." She adds, "to work with them on this, honestly, I can't even put into words how much it meant."
She sat down with the retailer and created specs that would be helpful for people with disabilities, as well as for those who don't. The ASOS DESIGN Tie Dye All-In-One Jumpsuit ($60; ASOS) has a zipper around the waist that separates it into a jacket and trousers to make getting dressed easier. The jacket has a zipper running down the middle, because pullovers are much more difficult to get in and out of. The ankles have adjustable cuffs for people of shorter stature (or for those who want to pair the look with rain boots), and the whole outfit is lined with jersey, which makes it soft and comfortable. Additionally, the hood has an elastic cord that prevents it from falling down when people who use wheelchairs are looking up. The suit's top pocket is waterproof and has a zipper which she says is perfect to hold your phone, medical information, and/or medication.
"It wasn't about making fashion for disabled people, it was about making fashion that's accessible," explains Ball-Hopkins. When people ask her how how people would know this is made especially for people who are disabled, she responds, "well, you wouldn't know. I put in the effort to make it that way, but it doesn't look like that. It just looks like a fashionable all-in-one that any girl, or guy (if you want to!) could wear to a festival."
Clearly, there's a demand. People on Twitter are loving it:
This might be the first you've heard of wheelchair-accessible fashion, but I guarantee this won't be the last. The world is changing and industries need to keep up. Beauty brands are constantly evolving inclusive shade ranges and innovating unisex products. It's about time the fashion industry follows suit.