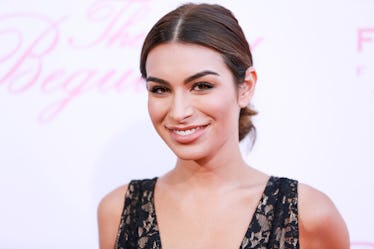 Ashley Iaconetti Went Wedding Dress Shopping & She's Channeling Her Inner Princess
Rich Fury/Getty Images Entertainment/Getty Images
Say Yes to the Dress and The Bachelorette remain some of my biggest TV guilty pleasures, and soon fans like me may have the chance to see their greatest loves combined. Although it wasn't clear if she was filmed for an upcoming Say Yes to the Dress appearance, Ashley Iaconetti went wedding dress shopping at Kleinfeld Bridal, and the Bachelor in Paradise alum definitely lived out my most beautiful dress shopping dreams. If she spotted style guru Randy Fenoli there too, then I'm officially jealous of Ashley I.
We're just weeks away from finally seeing former Paradise contestant Jared Haibon's proposal to Ashley on Season 5 of Bachelor in Paradise, but as always, real life is light-years ahead of the franchise's TV timeline. The couple hasn't been shy about their wedding plans, recently announcing the likelihood of an August 2019 ceremony (scheduling to align with a new Paradise season is a must, right?) and discussing whether they'd want a televised wedding. The latest chapter in this love story comes with many, many photos of Ashley trying on wedding dresses at the New York bridal salon that TLC's hit show has practically shaped into a must-see landmark.
Working with Kleinfeld consultant and Say Yes to the Dress mainstay Diane, Ashley shared several Instagram snapshots of herself considering different dress styles. She even included a full-length photo of herself in a ball gown, but don't worry, traditionalists — she did not say yes to this dress.
Keeping her followers updated via Instagram Stories, Ashley covered up serious dress contenders with emojis, and I'm loving how much fun she's having with this experience. Who would've thought that all those years of watching Ashley cry on TV would pay off and we'd finally have this moment?
Long fixated on buying a princess-like ball gown, picking out the perfect dress proved to be a little trickier than Ashley expected. She revealed on an Instagram Story that she didn't instantly love one of the ball gowns she modeled after assuming that she'd fall in love with her very first pick. Some of the styles she wore included an off-the-shoulder satin ball gown and a strapless dress with a sweetheart neckline, but what really seemed to take the cake was a surprise delivery of a sugary treat resembling Jared.
Yes, really.
After wrapping up at the salon, Ashley and her ladies grabbed food at a rooftop restaurant and topped off the day with a trip to see Kinky Boots on Broadway. I may not be anywhere near getting engaged and buying a wedding dress, but I may low-key steal the exact structure of her shopping day in the future. There wasn't any obvious sign of TLC cameras in Ashley's social media posts, but the network wouldn't keep this magical day away from us, would they?
This sneak peek into Jared and Ashley's big day has me so ready to watch Jared pop the question on the Mexican beach where it all started. Season 5 of Bachelor in Paradise starts on Tuesday, Aug. 7, at 8 p.m. ET on ABC.