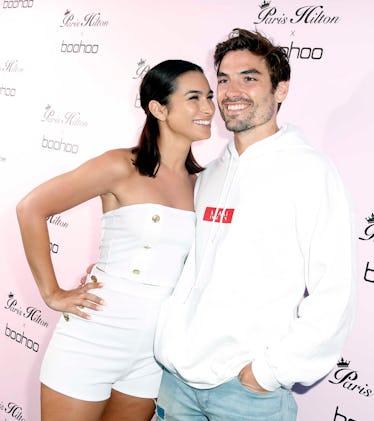 Ashley I. & Jared Haibon Revealed New Wedding Details & My Heart Can't Handle It
Rachel Murray/Getty Images Entertainment/Getty Images
Wedding bells are getting ready to ring for Bachelor in Paradise lovebirds Ashley Iaconetti and Jared Haibon. If you've been wondering about their ceremony and party plans like pretty much all of Bachelor Nation, the couple is now offering up more specific tidbits about their upcoming nuptials. The pair got engaged last month in Mexico and are starting to nail down details of their big day. When are Ashley I. and Jared Haibon getting married? According to the couple themselves, fans can mark their calendars for next year (whether they get to witness the celebration on TV or not).
"We're liking the sound of August 2019," Ashley revealed on Good Morning America on July 17.
ABC also reports the reality sweethearts are considering tying the knot in Rhode Island, Jared's homestate. A summer wedding in New England sounds like a picture-perfect rom-com worthy setting for the fairytale duo. Fans of the BIP franchise probably had a hunch that they would choose Mexico since they met and got engaged there, but just because they might not get married in so-called Paradise does not mean the wedding won't be televised. They have cameras in Rhode Island too, people.
"I think we're both down for it, but our caveat is that we want the guests... as many guests as we want and we don't want to have to be limited to that," Ashley commented on the possibility of a TV wedding on her Ben and Ashley I Almost Famous Podcast. "If we couldn't have it the way we imagined, that's the only reason we wouldn't do it…
"We want it, we want it," she added.
August would be ideal timing for an ABC wedding spectacular. Bachelor in Paradise typically premieres around then — Season 5 kicks off August 7, 2018 — so a very special romantic episode for Season 6 next year would likely not be outside of the realm of programming possibility.
"The reason I met the love of my life is because of Bachelor. And so I'm always indebted to them for that," Haibon told GMA.
Ashley and Jared announced their official relationship status in May. They connected on BIP's second season and both returned for Season 3, but things never got serious and they ultimately became friends. Ashley's feelings for Jared were made very clear on the show, though it took nearly three years for Jared to realize she was truly the one.
"I mean, I think one of the biggest things that I had to put aside in my pursuit of Ashley, like all the shame and guilt. It think that really consumed my life for the past couple years and it was very difficult to tell whether I was doing the right thing and whether I was making the right decisions," Jared admitted.
"We had really a lot of adult conversations, tough conversations about what we meant to each other, who we are in each other's lives," he added.
Jared's proposal to Ashley is reportedly set to be featured on the upcoming season of Bachelor in Paradise, so fans can look forward to happy crying along with them as they commit to taking the next step in their relationship. Hopefully, they'll also get to watch Ashley and Jared say "I do" next August.
Bachelor in Paradise premieres Tuesday, August 7 on ABC.