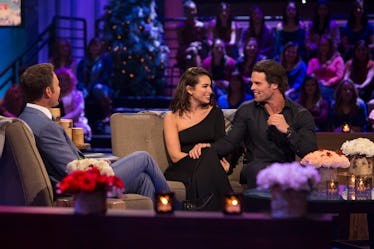 Ashley I. Admits She Cheated On Kevin With Jared "But It Was One Of Those Moments Of Passion"
ABC/Paul Hebert
Bachelor franchise staple and fan favorite Ashley Iaconetti is never one to act shy when it comes to opening up about her love life. She's currently blissfully engaged to Jared Haibon, but her relationship with Bachelor Winter Games former flame Kevin Wendt is under the spotlight due to a recent revelation. Kevin, a cast member on Season 5 of Bachelor in Paradise, noted in the show's premiere that Ashley cheated on him. Well, did she? Ashley I. admits she cheated on Kevin, but she's also clarifying the tricky situation.
Bachelor Canada alum Kevin Wendt hit it off with Ashley on Winter Games and the pair rode off into the Vermont sunset together after winning the sporty spinoff. They tried to make things work briefly, ultimately splitting this past March. The breakup seemed amicable — Kevin even went on Ashley's podcast to discuss what what down and they seemed genuinely respectful of one another — but he did decide to comment on their courtship's downfall on Tuesday's Bachelor in Paradise opener. He explained in an intro video:
When Ashley and I left Winter Games, I knew I wanted to marry her one day and then Jared flips the switch and now he wants to be with her. I did try to make it work but if you kiss another guy while you're dating someone else, that's cheating in my book. That really hurt me. I heard through the Bachelor grapevine that Ashley and Jared are dating now, so it's time to move on.
Speaking of podcasts... Ash got candid about Kevin's words on Tuesday's episode her Ben and Ashley I. Almost Famous Podcast. (Once again, I can't stress this enough: It's a must-listen if you consider yourself even a casual member of Bachelor Nation. They keep things real.) When her buddy and co-host Ben Higgins pressed her on what actually transpired between her and Kevin (and Jared), she set the record straight:
I had been dating Kevin like out in the real world for two weeks and Jared came out about his feelings and he kissed me in the airport and we had mentioned this before. I admitted that I was dating Kevin when Jared kissed me and that is true whether you call that cheating, that is up to you. By most definitions that is true. It was just one of those moments of passion… He pulled me in and I kissed him back, yes, but I never kissed him again until Kevin and I broke up until the day after my birthday.
In addition to more juicy and informative tidbits about what down and the subsequent emotions she went through, Ashley also stated that she wanted Kevin to do Paradise. She additionally noted that there was some understanding that their coupledom might not last.
"We never exchanged I love yous. We never really thought beyond a couple of months," Ashley divulged.
"In all honesty, I don't think he was reeling from our breakup come June," she went on.
Another interesting detail is that Ashley even credits Kevin with opening up the door to a real relationship with her now-hubby-to-be-Jared, who came to terms with his true feelings while she was with the Toronto-based fireman.
"I could not have been here if it weren't for meeting Kevin," she said.
Win-win? Ash and Jared are planning their future together and Kevin seems to be enjoying himself in Mexico already. Hopefully everyone involved here will get their reality TV happily ever after in the end.