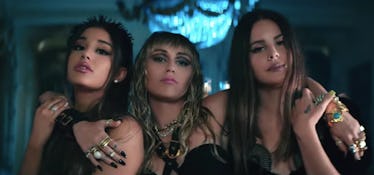 Ariana, Miley, & Lana's "Don't Call Me Angel" Video Is A Visual Masterpiece
YouTube
Y'all, Ariana Grande wasn't lying when she said that "God is a Woman." As you probably know, the Charlie's Angels movie is coming out in November, and it not only stars a group of badass women (Kristen Stewart, Naomi Scott, and Ella Balinska), but it was also directed by a woman, too (Elizabeth Banks). On top of that, three of the biggest female artists of 2019 — Ariana Grande, Miley Cyrus, and Lana Del Rey — teamed up to make a song for the movie called "Don't Call Me Angel," and let me tell you, I was so not prepared for this piece of musical genius. Yes, I knew the collab was happening, but still, nothing could have prepared me for what was to come. The song itself is fire, and Ariana Grande, Miley Cyrus, and Lana Del Rey's "Don't Call Me Angel" video is even better.
The trio first teased the collaboration this past summer. On June 26, Grande, Cyrus, and Del Rey announced they would be collaborating on a track for the Charlie's Angels reboot. It's always exciting when two of your fave artists announce a collab, but three? That only ever happens in my dreams, so I really couldn't believe it at first — but alas, it was true. An Ariana Grande, Miley Cyrus, and Lana Del Rey collab was actually happening.
The day the collab was announced, Cyrus tweeted, "WE ARE COMING! @CharliesAngels @ArianaGrande @LanaDelRey."
Fans got their first snippet of the song in the Charlie's Angels official trailer. The trailer started with Janelle Monáe's "Make Me Feel" playing in the background, before it transitioned into Grande, Cyrus, and Del Rey's "Don't Call Me Angel." You could make out a few lyrics from the song, including "Keep your pretty mouth shut" and "Boy, don't call me angel." Honestly, those lyrics alone should have been telling enough that the song would be amazing.
On Sept. 13, the full song released along with the music video. The music video for "Don't Call Me Angel" is just as good as the song, if not better. You can watch the video below.
In the video, Grande, Cyrus, and Del Rey basically give a big f*ck you to men. They traipse around a mansion delivering looks in their angel outfits, and fans are particularly obsessing over Cyrus and Del Rey's verses.
In Cyrus' verse, she trains in a boxing ring. Those shots are interjected with shots of a man tied to a chair in the same ring, with Cyrus being the definition of strength and power.
In Del Rey's verse, she sticks to her slow, sultry style, lounging in a robe and being her dreamy self. But she also practices her knife-throwing skills, because life is about balance.
At the end of the video, the three pop stars feast together before Elizabeth Banks (who directed Charlie's Angels in addition to being the film's Bosley) makes a cameo and tells the women it's time to get to work.
Honestly, I'm speechless. The video has got me so hyped to watch the Charlie's Angels movie in November!