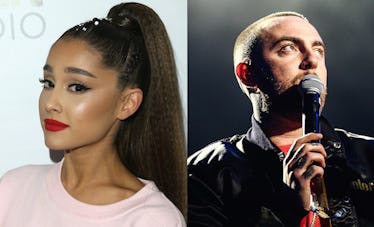 Ariana Grande Shared A Video Of Mac Miller That Shows The Beautiful Connection They Had
Jesse Grant/Rich Fury/Getty Images
After a brief hiatus following her breakup with Pete Davidson earlier this month, Ariana Grande is back to frequently posting photos and videos to her Instagram. The singer posts a bunch of stories per day that are mostly funny pictures of her animals (bless those posts), but she shared a video on Oct. 22 that's sure to rip your heart out. Ariana Grande's video of Mac Miller shows him getting some help from what appears to be Grande's grandmother (affectionately known on the internet as Nonna) and her mother, Joan Grande, as they get ready for an event. Based on what Miller's wearing, it looks like they were prepping for the Oscars afterparty they attended together in March 2018.
In the video, Miller watches an Elton John interview as Mama Grande and Nonna help him with the sleeves of his suit. Miller turns around to look at Grande, then smiles from ear to ear when he realizes she's filming him, and I would like to crawl into my bed and sob a little bit now. If Grande is going to be doing slow releases of all of the heartwarming videos she has of Mac Miller, I'm going to need to carry around several boxes of tissues at all times for the foreseeable future.
She posted this sweet video to her Instagram story on Oct. 22.
Miller's dog, Myron, is also in the video. Since Miller died on Sept. 7 of a reported drug overdose, Grande has seemingly taken Myron in and has been posted equally cute videos of him with her other doggos.
Fans are sobbing over the sweet video.
Miller died of an apparent overdose on Sept. 7. Grande posted a photo in honor of him to her Instagram on Sept. 8.
A week later, she posted an adorable video of him with a heartbreaking caption.
"I adored you from the day I met you when I was nineteen and I always will," she wrote. "I can't believe you aren't here anymore. I really can't wrap my head around it." The post continued, "We talked about this. So many times. I'm so mad, I'm so sad I don't know what to do. You were my dearest friend. For so long. Above anything else. I'm so sorry I couldn't fix or take your pain away. I really wanted to. The kindest, sweetest soul with demons he never deserved. I hope you're okay now. Rest."
Following Miller's death and the terrorist attack at her concert in Manchester in 2017, Grande justifiably decided to take a break from the spotlight in order to "heal and mend." Grande was slated to attend the 2018 Emmy Awards with Pete Davidson on Sept. 17, but the former couple was a no-show. Representatives for Grande told PEOPLE, "Contrary to reports, Ariana will not be attending the Emmys tonight. Pete has also opted to not attend to be with her in New York." The statement continued, "Given the events of the past couple of years, Ariana is going to take some much needed time to heal and mend. She will be staying close to home and using this period to spend time with her loved ones and work on new music without deadline. She thanks her fans for their understanding." Take all the time you need, Ari.