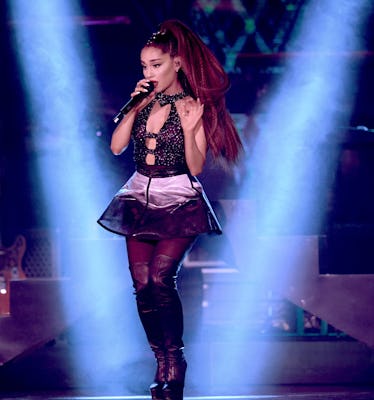 Ariana Grande Dropped New Sweetener Merch In Collaboration With Nicopanda & It's Cute AF
Kevin Winter/Getty Images Entertainment/Getty Images
Artist merch has been experiencing a level of popularity it hadn't before seen to the '90s. Thanks to insanely cool and impeccably designed drops by Kanye West, Justin Bieber, and Rihanna, which were done via designer collaborations, band tees are back. Ariana Grande's Sweetener merch is the latest release of project-pegged designs that will undoubtedly sell out at lightning speed, specifically the two sweatshirts designed in collaboration with New York streetwear brand, Nicopanda.
If you're not familiar with Nicopanda, check them out stat. Launched three years ago by Nicola Formichetti, it offers hyper-creative designs that defy popular trends, instead striving to create new ones. You'll recognize the brand by its x-eyed panda logo and punky, eccentric, truly singular aesthetic.
It's an interesting brand for Grande, who is known for her sweet babydoll dresses, thigh-high boots, and hair bows, to tap to design two limited-edition pieces of merch to add to the existing lineup, but it's a choice I am totally behind. Before their addition, the Sweetener merch offerings consisted of tees, crewneck long sleeve shirts, and crewneck hoodies featuring the album art, album lyrics, and other photos of the singer. They're relatively simple and come in all neutral colors.
The new additions, which are available now at arianagrande.com, boast a decidedly different aesthetic. The first offering is a blush tone crewneck sweatshirt. Across the front in upside-down lettering reads "ARIANA" in all caps, while "Sweetener 2018" appears right-side up in small letters underneath. "Sweetener Nicopanda" appears on the back of the hoodie at the bottom, also in upside-down form. My name is Ariana so yeah, I definitely need this.
The second style is a drawstring hoodie in a cool powder blue. This one is emblazoned with "SWEETENER" across the front in upside-down form, under which reads, "Ariana 2018" in smaller lettering. There's something to be said about consistency! The back of the hoodie is designed the same as the crewneck.
The crewneck retails for $65, while the hoodie retails for $75—not bad considering they were designed by a brand who shows seasonally at New York Fashion Week. But to make the deal even sweeter, each purchase also includes access to a digital copy of the album as well as pre-sale ticket access to the 2019 Ariana Grande headline tour. Most generous merch drop of all time? I think so.
Earlier this week, Grande surprised and delighted fans for two reasons upon stepping out onto the MTV Video Music Awards red carpet. For one, she arrived with fiancé Pete Davidson on her arm, which signaled the couple's red carpet debut. (There's a song on Sweetener about Davidson called, appropriately, "Pete Davidson.") Grande also decided to forgo her signature ponytail and wear her hair down in long sleek locks. Later on in the night she performed her new single, "God is a Woman," absolutely blowing the audience away with the all-female show that was inspired by Leonardo Da Vinci's painting, The Last Supper. Watch it for yourself here—I guarantee that after doing so you'll be buying one of the above hoodies stat in order to get early access to seeing Grande IRL.