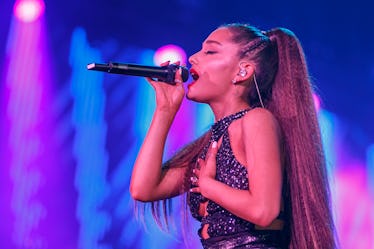 Ariana Grande Fans Are Trolling One Of Her New Songs For A Hilarious Reason
Rich Polk/Getty Images Entertainment/Getty Images
Ariana Grande has been through it, and now she's detailing all on her latest album, Sweetener. After briefly stepping out of the spotlight following the tragic Manchester Arena attack in March 2017, Grande co-wrote and recorded a heavy follow-up to Dangerous Woman. And while the record is full of hits, this isn't the same pop diva we once knew. Grande admitted to Fader that while she's "always just been like a shiny, singing, 5-6-7-8, sexy-dance... sexy thing," things have changed. "Now it's like, 'OK... issa bop — but issa message. Issa bop but also has chunks of my soul in it," she told the magazine. The 25-year-old songstress went deep with the project, detailing her turmoil throughout nearly every track. And, while it's in Ariana Grande's "Successful" lyrics that she finally addresses the haters, she also unknowingly created somewhat of a Twitter meme with her amazing — yet very unrelatable — lyrics.
Ahead of her August 17 album, Grande teased the song with, "Listen babe / And girl you too / You are so young and beautiful and so successful, yeah," featured in her "No Tears Left To Cry" music video. Later in June, the Sweetener singer opened up about "Successful" on Twitter and its message of female empowerment. After a fan asked what the song was about, Ari responded, "girls feeling good ab their own individual success / celebrating each otha / flexin n sh*t !"
And that's definitely apparent in the rest of the song. Here are some of the lyrics:
Yeah, it feels so good to be so young, And have this fun and be successful, yeah, I'm so successful, yeah, And, girl, you too, you are so young, And beautiful and so successful, oh, woah, yeah, I'm so successful
She continues, singing,
Tonight, I'm a baller, babe (Tonight, I'm a baller, baby), Even way beneath in, yeah (Even way beneath me), What else is there to say, boy? (What else is there to say, boy?), Say, bae, you should play with me, babe
Yas, queen!
While this song totally exudes Girl Power, there's just one small thing that fans are ragging on Grande for: the fact that they literally can't relate at all to the track.
Many took to Twitter to hilariously express how they felt while listening to the song:
Ariana, we've totally got the "young" thing down and on lock. But that whole "successful" thing? Erm, we're working on it, OK?
But c'mon you guys, let's be real: we're all vibing off of this song, because no matter what, each and every one of us are all perfectly gorgeous and beautiful and young and successful in our own right, so there.
Ariana Grande on Sweetener may be the most vulnerable version we've seen, but she's long been an outspoken feminist. She walked alongside her beloved Nonna and mother in the 2017 Women's March, defended Kesha amid Dr. Luke legal drama, and has unapologetically owned her sexuality. Although now happily engaged to SNL's Pete Davidson, Grande has never let a man define her. In 2015, she told The Sun, "I'm tired of needing to be linked to a guy, I'm not Big Sean's ex, I'm not Niall's new possible girl. I'm Ariana Grande." That's the Ariana we know, love, and is heard throughout the album. 
And remember, if Ariana Grande tells you that you're successful, you damn well better believe the woman.