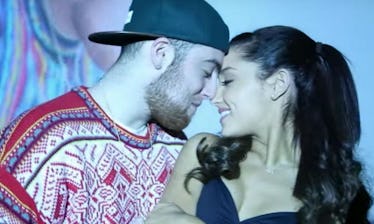 Ariana Grande Is Taking A Break From Twitter For The Saddest Reason
YouTube
By every standard, Ariana Grande has had a challenging couple of years. She's currently hanging out at the top of music charts thanks to her smash hit "Thank U, Next" and the release of her latest album, Sweetener. The new record has launched epic singles like "God Is A Woman," "Breathin'," and "R.E.M." Meanwhile, she's also survived a lightning-fast engagement and breakup to comedian Pete Davidson and shouldered the loss of her ex-boyfriend, Mac Miller, due to a reported overdose. Horrifyingly, some trolls are now accusing her of capitalizing on the tragedy. Ariana Grande's reaction to accusations she's "milking" Mac Miller's death is such a shame and totally unnecessary. Jerks, take a step back.
On Sept. 7, 2018, TMZ reported that law enforcement found Miller in his San Fernando Valley home where he was pronounced dead at the scene. A few months prior in May, Miller was charged with an alleged DUI and hit and run when he crashed his 2016 G-Wagon into a pole. TMZ reported eyewitnesses saw Miller (born Malcolm McCormick) and two other passengers flee the scene by foot. When authorities tracked McCormick down at his home, he allegedly confessed to drinking and driving. He was then taken to jail and bail was reportedly set at $15,000. Elite Daily reached out to McCormick's team at the time of the arrest but did not hear back by the time of publication.
Even then, people began poking Grande suggesting her breakup with Miller had something to do with his risky behavior. She responded to one person on Twitter writing, "I am not a babysitter or a mother and no woman should feel that they need to be. I have cared for him and tried to support his sobriety & prayed for his balance for years." At the time, Elite Daily reached out to McCormick's team regarding the claims in Grande's tweet, but did not hear back by the time of publication.
Flash forward to this Thanksgiving, and Grande is under scrutiny again. This time, it's in response to a thoughtful post she shared on her Instagram stories about Miller. Grande posted a picture of herself and Miller with Thanksgiving graphics stamped all over it for the holiday. She captioned it, "you're v missed."
This prompted at least two comments on Twitter that read "she milkin this sh*t bro," and "Ariana let it go... Mourn it behind closed doors. Stop milkin' it when you wasn't even there when he was at his lowest right before it happened."
Ari responded to the first commenter writing, "i pray you never have to deal with anything like this ever and i'm sending you peace and love."
She then went on to explain how the negativity makes her not "like this world a lot of the time" and how there is no appropriate way to handle a tragedy like the loss of a loved one. She tweeted:
everything i feel is valid and safe. everything i do is genuine and honest. there is no right or wrong during this period.
Ultimately, Grande made the decision to temporarily jump off of Twitter, simply writing, "peace." Some fans' loving comments tempted her to stay on the social media platform, but Grande wrote it's "too gnarly" for her right now.
Of course, Grande's true fans are endlessly thankful for her this Thanksgiving season and always.
I'd say "Thank u, next," but what I mean is, "Thank u, please don't go anywhere, Ariana."