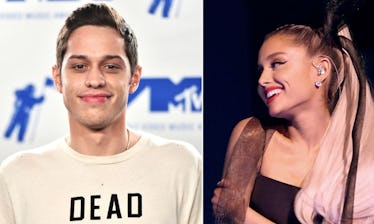 Ariana Grande Wrote An Instagram Comment To Pete Davidson That's Way Too Real
ALBERTO E. RODRIGUEZ/GETTY IMAGES; KEVIN WINTER/GETTY IMAGES ENTERTAINMENT/GETTY IMAGES
You know that one couple in your life that's so cute and in love that they can literally become, well... nauseating to be around? If you happen to be one of those PDA-packing duos, it's all about being self-aware, according to Ariana Grande. She's totally cognizant that her Instagram exchanges with fiancé Pete Davidson are flirty AF, and yes, she knows that they're bordering on "annoying." Whether you're team Gravidson or ready to hit that "unfollow" button, Ariana Grande's Instagram comment to Pete Davidson is way too real.
Since this quicker-than-quick pairing first made headlines, Davidson and Grande have taken to Instagram to wax on their love for each other. The results have toed the line between TMI and pretty darn cute, and the "God Is A Woman" songstress's latest post falls somewhere in that spectrum. Honestly, their PDA is getting to be a lot, and yes, she knows that.
On July 20, Grande took to the photo-sharing platform to post a black and white snap of her enjoying a cozy Friday night in with bae. Captioned "My baaaaaby loves me," the newlyweds-to-be look like they're radiating happiness in the image. The SNL comedian can be seen showing off his trademark sense of humor by sticking his tongue out, while Grande grabs his chin and makes a kissing face expression.
Honestly, it was pretty cute and all, and she probably wouldn't have felt a need to apologize for their public display of affection, except for the flirty exchange that went down in the comments section.
"More than anything," Davidson responded with a heart eyes emoji. His comment, which bordered on nauseating and had me giving a little eye roll, quickly garnered more than 30,000 likes. However, Grande's comeback was everything, and she's at least partially forgiven for how she tries to keep it real.
"We're annoying as f*ck," she wrote back, and honestly I love how she's able to poke fun at their constant back-and-forth on social media. That being said, something tells me that she's not that sorry about it, because she also took to Instagram on Friday to crown her 24-year-old beau the "king of Instagram returns."
After she shared a shot from her "God Is A Woman" music video (the post-milk bath scene, to be exact), he simply commented "Icon," and it's goals.
In fact, his compliment was cute enough that it almost erased the memory of a slightly disturbing Instagram Story video that the "Dangerous Woman" hitmaker shared earlier this week, which featured the lovebirds engaged in a full-blown French kissing make out. Just almost, unfortunately. There was a lot of licking slash sucking face, and I'd be so happy never to see that much of their relationship again, TBH.
Considering that the pair's online activities are only heating up and getting steamier as their wedding date approaches, something tells me that you might be better off taking a breather from their social media accounts if you need a break from the Gravidson love fest. If Grande's comment tells me anything, it's that they're reveling in their young love, and they're sorry, not sorry to subject you to all of it.