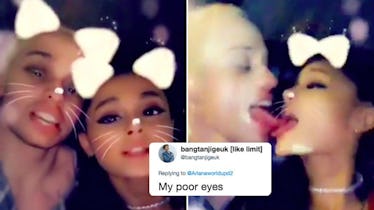 Ariana Grande & Pete Davidson Took PDA To A Whole New Level On Instagram & I'm Uncomfortable
Instagram
When you're in love, you want the whole world to know it. I get that, and I respect that, and I 100% support that. And clearly, celebrities are no different, especially if we're looking at the couples who are newly in love (*cough, cough* looking at you, Ariana and Pete). But there are definitely certain levels of showing off your relationship, and this video of Ariana Grande and Pete Davidson french kissing is on an entirely new level, and it's honestly a level that I'm not confident that I'm comfortable with. I mean, I love these two, but the PDA that they're showing off is... a lot.
On Monday, July 16, the "God Is A Woman" singer posted a video to her Instagram Story that showed off a side to the couple that we haven't seen before: mainly, their tongues. The video showed her and fiancé Pete Davidson with a cute filter lip syncing, which I'm totally cool with. This is a level of affection I'm on board with viewing. The couple looks happy and in love, and I'm loving it.
But then. Well, let's say that things... take a turn.
We see Davidson stick his tongue out and lick-slash-kiss Grande's cheek. It was, erm, sensual, and I felt like I should have been averting my eyes while it happened (but I didn't, obviously).
It's a bit much for me, if I'm being honest, but I'd take watching Pete Davidson weirdly make out with Ariana Grande's cheek 100 times over what happens at the very end of the video, where we see Grande turn towards Davidson and TOUCH HER TONGUE WITH HIS:
While the video cuts off at a very opportune moment, we all pretty much know where things are going, and maybe we should just be thankful that the footage stopped when it did.
Fans were quick to explain how they really felt about this video, which was a resounding not very good:
While we can all admit that perhaps this little bout of PDA is maybe too much, I do have to hand it to the newly engaged couple for being, otherwise, pretty damn adorable. A source told People magazine that it was because of the challenges they each faced in life that brought them together and was the reasoning why the two got engaged so quickly. The source said,
They've both been through hardships so that's something they definitely have in common. They've both dealt with some dark stuff at a young age ... Everyone around them is super supportive and happy that they've found love. They're just two people who found love quickly and make each other happy all the time.
Elite Daily reached out to both Grande and Davidson's teams previously for comment on the report, but did not hear back by the time of publication.
So OK, while maybe seeing Ariana and Pete playing tonsil hockey is not exactly our idea of a fun time, you have to admit that they are pretty damn cute together. Let's focus less on their steamy make-out sessions and more on how happy they make each other feel.
I've got your back, Ari. And Pete clearly has your front.