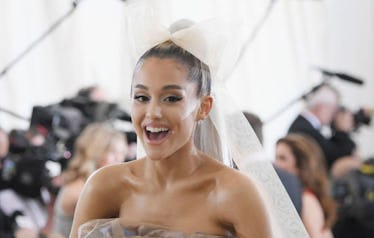 Ariana Grande's Met Gala Dress Is Literally A Work Of Art — But Her Gigantic Bow Stole The Show
Mike Coppola/MG18/Getty Images for The Met Museum/Vogue
The Met Gala is one of the most high profile red carpets of the calendar year, and getting an invite to attend is akin to proving one has really made it to the A-list of fashion. This year, the first time attendees include Ariana Grande. Her red carpet stature had been on an upward trajectory as her career grew, but after a year off, this marks her first major red carpet moment of 2018. And with a new album and new music to hype, Ariana Grande's 2018 Met Gala look is one for the Top Ten looks.
Ariana Grande, for the record, is one of those who has a very specific look that goes with her brand, and it's one she sticks to most of the time on the red carpet. She does a lot of very short babydoll dresses and she likes to pair them with thigh-high high-heeled boots. The very high, very long ponytail is part of her signature, as much as her upturned eyeliner.
With this being her first time on the Met Gala red carpet, the questions fans were asking is will she stick to what she knows? Or will she prove herself game to play along with Anna Wintour's theme party, and go full out for the "Heavenly Bodies" theme?
Grande actually managed to pull one out here. She not only went for the theme of the evening, but she managed to do it in a look that was still 100 percent on brand for her. Her dress might not be "babydoll" but it's definitely young skewing while still being totally on theme. (The images that make up the print are taken from a Sistine Chapel mural known as "The Last Judgement.") She paired that with, you guessed it! A long pony tail, which she accessorized with a ginormous golden hair bow, almost obscuring it. (Ponytails, are after all, not exactly considered high fashion.)
The resulting look is something of a coup for the singer. She manages to be wholly herself and stay on brand with her look, while making sure Anna Wintour knows she's willing to play along with her themes in order to win herself a return invite for next year.
As I mentioned above, Grande is releasing a new album after taking a year away from the spotlight. Called Sweetener, this will be her fourth album and will be released on July 20, 2018. Her first single from it dropped only a few days ago, and fans are expecting a powerhouse performance to help push pre-sales along at the Billboard Music Awards later this month.
Grande set a hard act for herself to follow. her last album, 2016's Dangerous Woman went all the way to Number 1 on the Official Albums Chart. (Her first album to do so.) She also had a serious run of hits from it, including the title track "Dangerous Woman," plus "Into You," and "Side To Side."
Some fans thought Grande might go all-out like musicians before her and use the Met Gala red carpet as an advertising moment for the new album. Katy Perry, for instance, wore a crown that read "Witness" to promote her 2017 album of the same name, and before her, Madonna wore a gown emblazoned with "Rebel Heart" in 2015. So there would certainly be a precedent for it, even if it might seem slightly gauche.
Grande, as we can see chose not to do that, which is is also on brand for her. Though she might be a little on the less than fashionable end with her usual branded look, she's never one to be overly in your face. (That's her brother Frankie Grande's department.) Instead, she wound up landing the delicate balance between fashion and branding on her first try.