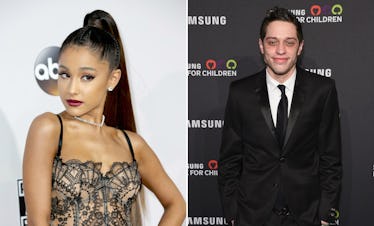 Ariana Grande & Pete Davidson's Comments After Their Split Show They Deal With It Differently
Frederick M. Brown/Bryan Bedder/Getty Images Entertainment/Getty Images
It's been just over a week since the world found out that Ariana Grande and Pete Davidson broke up, and, even though I sort of saw it coming, I'm still reeling. It's sad, you guys! But it's entirely more upsetting for Grande and Davidson themselves having to deal with the public and the media, as opposed to an average breakup where the only people who really care are your friends (and your mom, obviously). I can't imagine how I'd even begin to react to a breakup of such magnitude, but it seems that Ariana Grande and Pete Davidson's quotes after their split show that these two are moving on in very, very different ways.
Of course, like any couple, it's totally normal to deal with a breakup in each person's own way, and it seems that. Ariana Grande is putting on a brave face and seemingly talking about it with her fans on social media in the most subtle way by never explicitly mentioning it. Meanwhile, Pete Davidson is using humor as a way to talk about it (aka, my own coping mechanism). Let's discuss, shall we?
Ariana's Reaction
According to E! News, Grande shared her first post after the breakup on her Instagram story on Oct. 15.
In Grande's Instagram story post (that's since been deleted), she reportedly wrote, "Ok today was v special and i'm so grateful i was able to be there," most likely referring to her taping NBC's A Very Wicked Halloween. She continued writing, "Time to say bye bye to the internet for just a lil bit. it's hard not to bump news n stuff that i'm not tryna to see rn. it's very sad and we're all tryin very hard to keep goin. love u. and thank u for bein here always."
Then, in another Instagram story that has since been deleted, Grande reportedly wrote, "Can't believe I almost let my anxiety ruin this for me today!! Not today satan! Not tomorrow or the next day either not no more u can suck my big green d*ck. finna sing my heart out and be a big walking vessel of love bye."
I'll give it to Ari. Her apparent nod to the breakup was certainly.... subtle-ish (???), but it's hard not to assume she's alluding to her breakup. Clearly, Grande is focusing on the hustle and is trying to keep away from the drama surrounding her and her split.
Get it, girl. Go make that bank and try to find some closure along the way.
Pete's Reaction
According to E! Online, Pete Davidson has been a bit more revealing when it comes to acknowledging his breakup. Davidson's comments came during his first public appearance after his split with Grande, at the comedy show he co-hosted with Judd Apatow entitled Judd & Pete for America at the Coronet in West Hollywood on Saturday, Oct. 20.
Davidson reportedly told the crowd, "Well, as you could tell, I don't want to be here. There's a lot going on."
He then reportedly spoke about his tattoos — several of which he got as a tribute of his 25-year-old ex-fiancée. According to E! Online, Davidson told the crowd, "Um, I've been covering a bunch of tattoos, so that's fun. I'm f**king 0 for 2 in the tattoo [department]. Yeah, I'm afraid to get my mom tattooed on me, that's how bad it is."
Eeesh.
Davidson also reportedly said,
So, obviously you know I, we broke up or whatever but when me and her first got engaged we got tattoos. And it was like in a magazine like, 'Was Pete Davidson stupid?' And 93 percent of it said yes. So my boy, he was like, 'Don't listen to that sh*t man. They're literally f*cking haters.' And I'm like, yeah, f*ck that. I'm not stupid. And the other day we were in my kitchen and he was like, 'Yo bro. Turns out you were stupid.'
Funny, but also sort of heartbreaking, if I'm being honest.
So look, it seems like both Pete and Ariana are trying to figure out their new normal, so let's give them both some time to adjust to being single once more. And if, after some time, they're both still not over it, I'll be sure to burn my epic breakup song soundtrack on a CD and hand them both a copy.