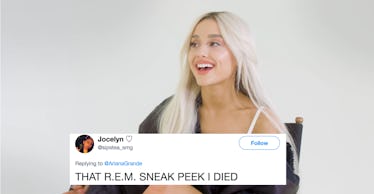 Ariana Grande Just Teased A Brand New Song About Dreams & Twitter Is Losing It
If it hasn't been made clear to you yet, let me be the one to really bring it home. This is the year of Ariana Grande. She has a new album, new fiancé, some seriously awesome new hair, and I am paying the eff attention. Grande recently participated in a fun video with ELLE and, in it, she debuted a snippet of her new track called "R.E.M" Ariana Grande performing her new song "R.E.M" live is one of today's best gifts from the internet and I can't recommend it enough. She also sings a bunch of other hits as part of a game of "Song Association" making the video five of the most delightful minutes of my week.
This is how the game works: Grande was given one word at a time and had 10 seconds to sing a part of a song that had the given word in its lyrics. For example, her first word was "rainbow." Grande chose to sing the classic tune "Somewhere Over The Rainbow," thus earning herself a point. Most, if not all, of the words are pulled from her own songs, but Grande made a point to try to diversify her tune choices. However, when the word "dream" popped up, Grande seemed to draw a blank and could only think of her unreleased new song, "R.E.M". Or, maybe she knew exactly what she was doing, which is building hype and hysteria around the new track.
Grande cooed a handful of lyrics that went like this: "Boy, you're such a dream to me. Before you speak don't — cause I don't want to wake up... wake up... wake up..."
Skip to 3:27 in the video below to see the epic moment.
Grande explains, "That's my song. I just put that one out. And I hope you like it. Please buy it." A producer behind the camera alerted Grande to the fact that the "Song Association" game would hit YouTube before "R.E.M" hit her fans' Spotifys, but her reaction was essentially IDGAF because, obviously, fans loved the teaser, anyway.
Twitter exploded with feelings.
The frenzy was intensified considering the "R.E.M." snippet was released the same day Grande announced "God Is A Woman" is coming. Grande promoted the GIAW release with an Instagram post at midnight on July 12 that said "surprise. twenty four hours til giaw." The photo is a grainy graphic of Grande covered in paint holding her hands over her face.
As if this wasn't enough to send her fans into cardiac arrest, she also tweeted some "God Is A Women" lyrics.
Grande posted the sultry lyrics:
You love it how I move you, how I touch you my one / When all is said and done, you'll believe god is a woman / and I feel it after midnight, a feeling that you can't fight / it lingers when we're done, you'll believe god is a woman / P*ssy issa privilege
Everybody hanging in there? THE WOMAN IS ON FIRE, YOU GUYS.
As part of her interview with Elle magazine, Grande commented on speaking her truth and allowing her true feelings and opinions out for the public to see - even now, in a politically charged time. She said,
There's a lot of noise when you say anything about anything. But if I'm not going to say it, what's the f*cking point of being here? Not everyone is going to agree with you, but that doesn't mean I'm just going to shut up and sing my songs. I'm also going to be a human being who cares about other human beings; to be an ally and use my privilege to help educate people.
God is a woman, and her name might be Ariana Grande.