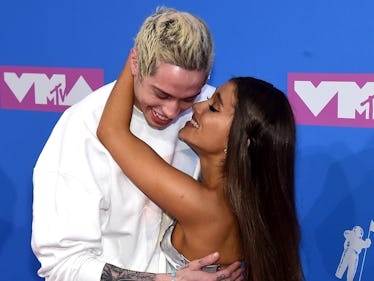 Ariana Grande's "Love Lock" For Pete Davidson Is The Sweetest Gesture
Jamie McCarthy/Getty Images Entertainment/Getty Images
After a whirlwind couple of weeks, Ariana Grande is taking time to show the special people in her life how much they mean to her. While making a special appearance at her Spotify Sweetener Pop-Up in New York City on Friday, Sept. 28, Ariana Grande made a "love lock" for Pete Davidson, and it'll give you all the warm and fuzzy feelings. The personalized lock has both her and her beau's initials on it, and it promises to "seal your bond forever."
In a series of videos and photos shared to her Instagram Story, Grande took fans along during her visit to the pop-up, which features different rooms all inspired by the chart-topping singles from Grande's latest album. While the immersive and interactive experience boasts a handful of cool rooms (there's a dreamy room full of giant pillows, for example), the space dedicated to her fiancé Pete Davidson is giving me some serious feelings. Taking a cue from famous lock bridges around the world, Grande made her own version with locks signifying her unbreakable bond with the most important people in her life, and it's so touching.
In her Instagram Story, Grande shows a shot of a sign that instructs you, "Grab a love lock and inscribe your name alongside the name of someone who's special to you — your boyfriend or girlfriend, your best friend, your sister, your dog, or even the guy who delivers your favorite pizza."
Next, the wall instructs, "Affix your personalized padlock to the fence and seal your bond forever."
Naturally, Grande decided to pay homage to her love first, and she shared a video that shows her inscribing her and Davidson's initials on a padlock in white sharpie. Basically it's the relationship inspiration I didn't know I needed.
After paying tribute to her everlasting love, Grande then turned to the other individuals that mean so much to her. The songstress's next lock was dedicated to her dog Toulouse, while she picked out a heart-shaped lock to inscribe the initials of her brother Frankie Grande, her mom (Joan Grande), her grandmother (Marjorie Grande), and her grandfather, Frank Grande.
When she was done, she locked the three trinkets on the fence, which are now the very first locks in the interactive feature. On Saturday, Sept. 29 and Sunday, Sept. 30, fans can head over to the Spotify pop-up and make their own love locks or admire Grande's handiwork, although there are no guarantees that Arianators will be treated to a sighting of the artist herself.
However, if you don't live in NYC or can't head to the pop-up during the two-day opening period, you could still be in for a sweet(ener) surprise. In a series of tweets on Friday, Grande teased that maybe, just maybe a mini Sweetener tour could be happening sooner rather than later. Again, I'd take this with a grain of salt as she admitted that she's been feeling very "up and down" about the whole thing, but there's hope that the "God Is A Woman" hitmaker and all the gems off her latest album will be making their way to your hometown sometime in the near future.