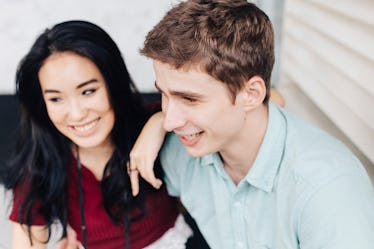 How To Deal If You & Your BF Or GF Are Going To Different Colleges In The Fall
I'll be honest, at 18, I was staunchly against the idea of continuing high school relationships into college. Was I in a relationship at the time? Of course not! Did I lecture my coupled-up friends at length about the benefits of heading to college untethered? Absolutely! "You're already going to a different college than your boyfriend," I'd explain. "You should just cut all ties and move on." It was ridiculous for a variety of reasons.
One: What the hell did I know? I was 18, had just gotten dumped for the first time, and was entering into my first-ever "Men are monsters and we don't need them" phase. Two: My sister and now brother-in-law were high school sweethearts who did a brilliant job of maintaining their relationship from different colleges. So brilliant, in fact, that they got married a few years after commencement and now have a (SUPER CUTE) son together.
The point is, High School Genevieve had no idea what she was talking about when she hopped up on a soapbox and screamed about how insane it was to try and make a relationship work when you're at different colleges. But you know who does know what they're talking about? All of the women quoted below. Because they've been there, done that, and understand exactly what it takes to make it work.
So, here are five ladies' top tips for managing a relationship when you and your SO are headed to different colleges. Take it from the pros.