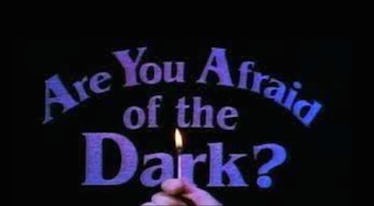 This Classic '90s Nickelodeon TV Show Is Being Made Into A Movie & We're Screaming
Nickelodeon/YouTube
If you were anything like I was in the mid '90s, you probably spent your Saturday nights watching Nickelodeon's epic SNICK lineup. Sure — All That was great, Clarissa Explains It All was practically a lifestyle, and we gotta give a shoutout to Roundhouse — but most viewers must agree that the cherry on top of the iconic programming block was Are You Afraid of the Dark? When 9:30 pm rolled around, you knew it was on. The Canadian series that told terrifying ghost story tales was a must-watch staple of the decade. And now an Are You Afraid of the Dark? movie is reportedly in the works, so get ready for a new generation to hopefully appreciate the greatness.
Whether you're jumping for joy at this news or asking "why is Hollywood messing with my childhood again?," rest assured that the team behind the modern reboot is a promising one. Paramount Players' adaption is set to enlist It writer Gary Dauberman to helm the feature film's script. It is an example of a successful reboot of a beloved horror classic in many critics' minds (and in our humble opinion), not to mention it was considered a box office success.
If you're not familiar with Are You Afraid of the Dark? and you have no idea what we're referring to (perhaps you were more of an Empty Nest person back in those days, we won't judge), then here's what you need to know. The Canadian-produced TV show centered around The Midnight Society, a group of teens who told scary stories, urban legends, and creepy cautionary tales around a fire. Said stories were reenacted by different actors each week. The show was on between 1992 and 1996 on Nickelodeon and got the reboot treatment in 1999, though that version was short-lived.
Some of the Midnight Society players have actually gone on to become recognizable actors you're probably familiar with. JoAnna Garcia Swisher of Reba and Kevin (Probably) Saves the World fame was a lucky member. Rachel Blanchard, who you might know from both the Clueless and Fargo TV adaptations, also appeared in a recurring role.
And it feels like you can't have '90s Canadian TV without the mention of a one Mr. Ryan Gosling, can you? The two-time Academy Award nominee was one of the many celebs who had a guest-starring part on the show at one point.
In fact, Are You Afraid of the Dark?'s ever-changing roster was pretty star-studded. Neve Campbell, Hayden Christensen, Jay Baruchel, Tatyana Ali, Melissa Joan Hart, and Jewel Staite are just a few of the household names that lent their acting skills to the anthology.
Honestly, if you were a kid when this show aired in the early '90s and you claim it never scared you, you're probably lying. I never even considered making a prank phone call after watching 1994's "The Tale of the Phone Police." And this "I'm cold" kid from "The Tale of the Frozen Ghost" still haunts my nightmares. No joke, I think about it often.
This show was like a baby American Horror Story, with way more Canadian actors.
In addition to It, writer Gary Dauberman has Annabelle: Creation as one of his credits, and he's set to tackle It's upcoming sequel. We know he can master the balance of coming-of-age and horror, so it will be very interesting to see how he'll handle the source material. Since the original series had a format that introduced new thrilling tales each week, we have to wonder if the script will focus on one story concept or a handful of mysterious mythologies. Whatever happens, we can only hope that Ryan Gosling will get a cameo.