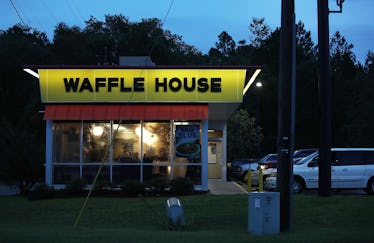 This Is How North Carolina Waffle Houses Are Responding To Hurricane Florence
Joe Raedle/Getty Images News/Getty Images
In the last few days, you've most likely heard a thing or two about Hurricane Florence, which made landfall on Friday, Sept. 14. It's been ravaging the East Coast — specifically the Carolinas — and due to severe floods and high winds, thousands of residents have been evacuated from their homes. However, Southern-based breakfast chain Waffle House often tends to keep locations open during highly aggressive storms, so you might be wondering if Waffle Houses in North Carolina are open. Shockingly, most restaurants are still serving customers with limited menus, in spite of the relentless storm.
If you've ever traveled anywhere down the Southern East Coast, there's a likely chance you stopped at a Waffle House at one time or another. Waffle Houses are almost always open no matter the time of day, time of year, or the weather conditions. During hurricane season, Waffle House even serves as an indicator of the severity of storms. That's right, the Federal Emergency Management Agency (FEMA) uses the Waffle House Index to understand the current state of storms. Elite Daily reached out to Waffle House for comment on the current index status but did not hear back at the time of publication. Florence has been doing damage, though, because at least five deaths were reported as caused by the storm as of Saturday Sept. 15, per CNN.
While Hurricane Florence was downgraded to a tropical storm on Friday afternoon, per The Washington Post, locations in Morehead City, North Carolina, as well as in Benson, North Carolina, initially announced a day earlier that they were planning on shutting down on Thursday, Sept. 13 due to Hurricane Florence, according to The Charlotte Observer.
As of Saturday, Sept. 15, both the Benson and Morehead Waffle House locations are open but are "not accepting to-go orders over the phone," per a phone message at those locations.
On the Waffle House Index, if a "...store is open and offering a full menu, the index is green. If it is open but serving from a limited menu, it's yellow. When the location has been forced to close, the index is red," per comments from Panos Kouvelis, Ph.D., the Emerson Distinguished Professor of Operations and Manufacturing Management and director of the Olin's Boeing Center for Technology, Information and Manufacturing, in a 2011 EHS Today article about the Waffle House Index.
According to the tweet from Mike Seidel, a "Meteorologist/Field Reporter for The Weather Channel", per his Twitter bio, on Thursday, Sept. 13, it seems as though Waffle House in Wilmington, North Carolina, was operating at code yellow with a limited menu at the time. Elite Daily reached out to Waffle House for Saturday's code, but did not hear back at the time of publication.
According to Weather.com, the storm is going to start moving westward on Saturday, Sept. 15, which is expected to bring more heavy rainfall, as well as strong winds to the Carolinas. Flooding is expected to continue, as they've already had a total of 15 to 25 inches in several locations along the Eastern coast, and several roads have closed down. The bottom line is that it isn't totally safe to go out, so if you do, be careful.
Although the storm has technically been downgraded from a hurricane to a tropical storm, both Carolina states are still at a dangerously high risk for flooding and severe winds, so it's best to follow the evacuation orders in the areas of the storm as long as they are in place. Staying safe is the number one concern, so those impacted by Florence should keep an eye on current evacuation orders and the Waffle House Index to ensure safety while waiting for the storm to pass.