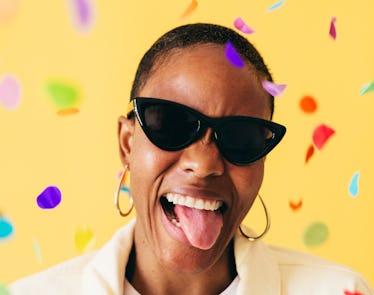 3 Reasons You Should Reject The Idea Of A Soulmate & Live Your Best Life
I can trace the root of my ill-informed ideas about soulmates back to season six episode 12 of the CW classic, One Tree Hill. Are soulmates real? This episode seemingly answered this question for me. Brooke, the once bratty cheerleader turned business-savvy fashion-mogul (goals) is alone in her shop, ugly-dancing to "The Breakfast Club" soundtrack. Enthralled in the dance, she doesn't even notice when Julian — the unwavering love of her life — enters the store and instantly falls in love. This moment is organic, but of course, completely staged for Network television.
What the "Brooke dance" really instilled in me at a young age is that you can somehow control the way that your star-crossed lover first sees "the real you," and that you can arrange your own life to stage this moment. When I think about soulmates, I think about this notion of "staging your authenticity." About accidentally (but totally-on-purpose) bumping into your crush at their favorite coffee place, wearing a shirt of a band you both like. I ponder how sometimes, I do the things I do normally in hopes that someone will see me doing it, and think I'm funnier or smarter or cooler for it.
The "Brooke dance" is about wanting to be seen so unabashedly as "being yourself" and hoping that in doing so you're creating moments for your soulmate to make their first appearance. And that you will build a life together, stemming from that one perfect moment. Yet, to consistently have one eye on who's coming through the door, and living as though your perfect mate could enter at any point, can be extremely suffocating. I now know that I don't want to go through life waiting for my soulmate to suddenly walk in.
I reached out to three relationship experts about the expanding conversation around soulmates. Here's what they had to say.