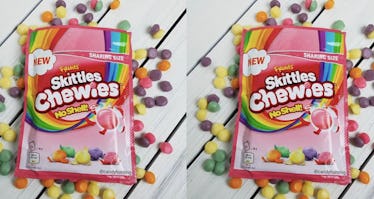 If You've Been Craving Skittles Chewies, You Could See Them In The United States Soon
It's almost that time of year when candy is everywhere. I'm not mad about it, either. Halloween lands on Wednesday, Oct. 31 this year, and I've already got my eye on a brand-new bag of candy from Skittles that I'm dying to try. Before I set out on my quest to secure a bag just for me, I'm on a mission to find out, "Are Skittles Chewies available in the United States?"
Skittles Chewies are exactly what they sound like — a mouthful of soft, fruity deliciousness. Per Skittles UK, the Skittles Chewies have the same fruity taste without the shell. According to a photo of Skittles Chewies posted by @candyhunting, an Instagram food blogger, the multicolored candies have "no shell." So, basically, it appears that Skittles Chewies are just like the normal Skittles you know and love but without the hard candy coating.
Currently, Skittles Chewies are only available across the pond, according to Skittles UK. The candy company is reportedly gearing up to release Chewies in the United States. In an Instagram post, @candyhunting writes that, "Wrigley also filed a trademark for 'Skittles Chewies' in the US, so I expect they will be out here soon." Even though that seems like a good sign, you might not want to get too excited just yet. A Skittles spokesperson tells Elite Daily, "There are no plans at this time for Chewies to launch here in the [United States]. Anything else being reported is just speculation."
While a Skittles spokesperson tells Elite Daily, "[Skittles Chewies] are only available in the UK," I sure hope that there's some truth behind the filing for a U.S. trademark, per @candyhunting. I'm pro-Skittles of all flavors and kinds, so I'd really like to be able to try Skittles Chewies. The whole "no shell" thing really intrigues me. It would be great to stock up on these for the upcoming Halloween holiday. I'll probably wind up settling on my usual bag of original Skittles (grape, strawberry, and lime are my go-to flavors).
Since I haven't tried Skittles Chewies myself, I can't offer my expert opinion on what they taste like. The front of the Skittles Chewies bag shows five pieces of the bite-sized candy in the following colors orange, green, yellow, purple, and pink. The packaging also seems to indicate that, just like regular Skittles, Chewies come in fruit flavors. Per @candyhunting, the purple Skittle in the bag of Chewies is blackcurrant-flavored. Blackcurrants are tiny berries that somehow manage to be both sweet and tart at the same time. Now I'm just even more intrigued by Skittles Chewies. Of course, @candyhunting reports that lime, a longtime staple flavor of Skittles, is available in Chewies form.
Skittles is owned by Mars Wrigley Confectionery, maker of some of the best candies out there, IMO. Aside from Skittles, the company also is the brains behind Dove Chocolate, M&M's, Snickers, and other sweet treats. Now, a quick history of Skittles for all of you candy buffs. Skittles were first introduced in 1979. The original lineup included orange, lemon, lime, grape, and strawberry. Since then, Skittles has gone on to release a variety of other flavors such as Wild Berry, Sour, Tropical, and Orchards, according to the company's website. Even with all those options, it looks like people are excited for the no-shell version.
Skittles can do no wrong, in my humble opinion. It seems that's up for debate on Twitter, where users are either about Skittles Chewies, or they aren't. One Twitter user even compared Chewies to unwrapped Starbursts. Touché. As I mentioned, I haven't tried the no-shell, bite-sized candies for myself, but I can appreciate the analogy.
Here's to hoping that I can one day track down a bag of Skittles Chewies without having to hop on on a flight to Europe.
Editor's Note: This post has been updated to include a statement from a Skittles spokesperson.