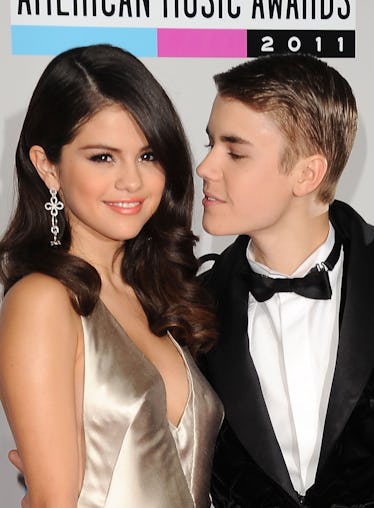 Justin Bieber Was Seen With A Woman Who Isn't Selena Gomez, So Try Not To Freak Out
Jason Merritt/Getty Images Entertainment/Getty Images
Selena Gomez took herself on an Australian vacation to escape from pressures of fame for a bit. She and Justin Bieber are reportedly spending time apart and are still together, but a new video of Justin Bieber out with an unidentified woman on Tuesday, March 20, raises the question: Are Selena Gomez and Justin Bieber still dating? Bieber was seen at a Craig David concert in West Hollywood on March 20. According to reports, he spent the majority of the concert in the VIP section with an unidentified woman. Elite Daily reached out to Bieber's team for comment, but did not hear back by time of publication.
At one point during the concert, Bieber went on stage to speak to the crowd. While on stage with David, Bieber said, "He's an amazing guy and he's an incredible artist. I'm just glad to be here, I had so much fun!" In an interview with Entertainment Tonight before his concert, David spoke about Bieber and their friendship. "I've watched Justin grow into the young man that he is now and it's incredible to see him be able to own it in the way that he is," he said. "Because I think a lot of us try to understand how someone could actually be in the spotlight like he's been and be able to hold it together, and come with the music and still keep it relevant and keep it fresh."
Bieber was seen at the Craig David concert with an unidentified woman by multiple concertgoers.
ET reports multiple eyewitnesses saw Bieber dancing with the blonde woman throughout the night.
Most of the videos caught of Bieber at the concert show him dancing, eating, and just having a good time.
Honestly, this all seems harmless. Maybe Bieber was dancing with a woman who isn't Gomez at the concert, but these videos really just look like Bieber was there enjoying himself with friends. Friends dance all the time, so I don't think this is that deep. While we have no way of knowing whether or not Gomez would have an issue with Bieber dancing with people at a concert, this wouldn't be that big of a deal to me. But hey, that's just me!
Gomez and Bieber have reportedly been taking some time apart because the media frenzy around their rekindled relationship has brought a lot of pressure. A source told ET the attention on their relationship has been overwhelming for Gomez. "Selena is very delicate; her 'comeback' to the spotlight has been tough — especially with the interest in her personal life with Justin and her mother," they said. "She is taking time to herself. This is not the first time she has done this." That personal time has reportedly included spending time with family in Texas and jetting off to Australia with friends for a vacation.
On Tuesday, March 20, Gomez posted a video from her Australian vacation on Instagram. The post is all about body positivity.
Her caption reads,
The beauty myth- an obsession with physical perfection that traps modern woman in an endless cycle of hopelessness, self consciousness, and self-hatred as she tries to fulfill society's impossible definition of flawless beauty. I chose to take care of myself because I want to, not to prove anything to anyone. Wind in her sails.
Yes, girl! Gomez is clearly making self-care her top priority right now, and I love to see it. It's good to take a step back from relationships from time to time to recalibrate and get back to yourself for a bit. Getting physical distance from a partner doesn't always mean you can't stand being around them. Rather, it means you're making sure you're taking care of yourself so you can bring your healthiest self to the relationship. To sum this all up, Selena Gomez is taking some valid time to herself for self-care, Bieber is having fun with friends in the meantime, and this all seems pretty normal to me.