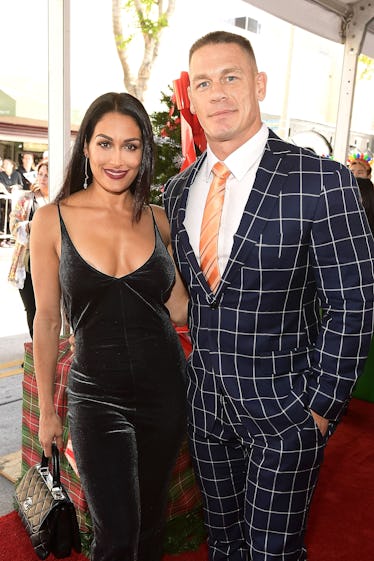 Nikki Bella Posted A Photo With John Cena In A Hot Tub, So Are They Back Together?
Matt Winkelmeyer/Getty Images Entertainment/Getty Images
Nikki Bella and John Cena have had a tough year thanks to the dissolution of their relationship. While the two officially split in July 2018, Bella sparked rumors of a reconciliation on Instagram last week. On Thursday, Nov. 22, Bella posted several photos and a heartfelt message expressing all that she's thankful for the Thanksgiving holiday. And among those photos was one of her and her ex Cena. So, are Nikki Bella and John Cena dating again? According to TMZ, the two have not reconciled and are still "very much single." Elite Daily reached out to Bella and Cena's teams for comment, but did not hear back by the time of publication.
In a Nov. 27 report, a source close to the situation told TMZ that Bella was "simply reminiscing over the past year and thinking back on what she was thankful for."
In the photo Bella posted, you can see both Bella and Cena snuggling in a pool and watching the sunset. The photo definitely gives off a romantic vibe, which makes it easy to see why fans were convinced their relationship was on the mend. But alas, that's not the case! One clue that the relationship isn't being rekindled is that Bella posted photos of lots and lots of people and listed a slew of reasons she's thankful. Cena was just part of all that.
You can check out the photo of Bella and Cena down below (it's the sixth slide, FYI):
In the caption of the gallery, Bella expressed her heartfelt thanks for all the people in her life. Here's what she had to say:
Happy Thanksgiving! I'm so thankful for so many wonderful things in my life as well as so many incredible people in my life. So thankful for my family and best friends, always there when I need them, the women I share the WWE ring with, such an amazing group of hard working, passionate women that together started an Evolution, my Total Bellas and Total Divas production team, crew and glam squad, they all work so hard all year long and do it all away from their families, love you all!
Bella and Cena were all set to get married in May 2018, but split a month before to work out some issues.
"While this decision was a difficult one, we continue to have a great deal of love and respect for one another," they said in a statement at the time. "We ask that you respect our privacy during this time in our lives."
By late May, the two stars were back together and reportedly working things out. Here's what a source told People at the time:
They both got a wake-up call once they canceled the wedding, and they both realized they could fix what was broken. This was never really about ending their relationship — it was about calling off a wedding because something didn't feel right. It was a wedding that was entered into under false pretenses. She was pretending she was okay with not having a kid, he was pretending he absolutely couldn't and wouldn't budge on that point.
Despite all that, Bella and Cena decided to call it quits for good at the end of July and there's no sign whatsoever (other than fan speculation) that they'll rekindle their romance. So, while it's a nice thought, it doesn't look like it's going to happen at this point.