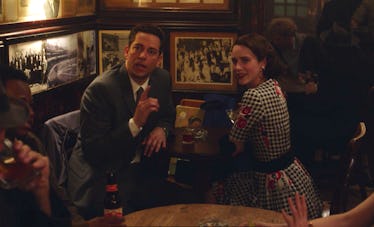 Midge's Love Triangle In 'Marvelous Mrs. Maisel' Season 2 Ended With An Unexpected Twist
Amazon
Although The Marvelous Mrs. Maisel is primarily about Midge Maisel's rise through the ranks of the stand-up comedy scene of late-'50s New York, her personal life is just as much of a wild ride as her professional one. After separating from her husband Joel in Season 1, the newly released Season 2 introduced a new love interest for Midge. And although things seemed to be going well with Benjamin for a while, the season finale ended on a confusing note for their relationship. So, are Midge and Ben over for real, or can we expect more of them in Season 3 of Marvelous Mrs. Maisel? Let's talk about where the couple left off.
Spoiler alert: Stop reading here if you have not yet finished Season 2 of The Marvelous Mrs. Maisel. Midge first meets Benjamin Ettenberg, a doctor played by Zachary Levi, while on her annual family trip to the Catskills. Although Midge confessed she still had feelings for her separated husband Joel prior to the trip, Joel admitted that he could not get back together with her while she continued to pursue stand-up comedy. So Midge's mother Rose once again makes it her mission to find Rose a husband, and forces her daughter to go on a date with Benjamin, the son of one of her friends.
At first, Midge and Benjamin don't seem to get along at all. He comes off as smug on their initial canoe date, refusing to pick up an oar to actually row the boat, and his eccentricities have spread around the resort, as other families know that he constantly keeps to himself and only stays in the Catskills until he finishes a box of cereal that he brings with him each year. But Midge and Benjamin actually do start to bond with one another when she carpools with him back to New York City for a work emergency. On the ride, Midge makes Benjamin laugh by mimicking the voice of a radio presenter, and when they make it back to the city, he asks her out for a date to see a play.
Despite their initial awkwardness, Midge and Benjamin actually start to hit it off, so much so that she reveals to him the truth about her secret double life as a stand-up comedian. As the season continues, Midge and Benjamin grow closer — going to galleries together, tracking down an elusive drunk art savant, and he is even a big fan of her sets at the Gaslight. In the end, Benjamin asks Midge's father, Abe, for his blessing to ask Midge to marry him, and although Abe says he needs time to think about it, Midge and Benjamin appear ecstatic to be getting married soon.
However, Midge's love life takes an immediate back seat when her career comes calling. In the Season 2 finale, the popular singer Shy Baldwin offers Midge the opening spot for his six-month tour that is about to kick off and she immediately says yes. Only later does Midge realize that agreeing to the long tour probably ruins Benjamin's proposal plan and could end their relationship. In the end, Midge comes to accept that she will always be alone because she will always put her career first.
But we never actually got to hear from Benjamin at all after Midge found out about the tour. She seems to just assume that things are over between them without even telling him about her big tour. From what we have seen so far, Benjamin has actually been supportive of Midge's stand-up career, so maybe he is okay with waiting until her tour end to pop the question. Do not be too surprised if Benjamin and Midge are still together (albeit possibly long-distance) in Season 3... although Midge's tryst with Joel at the very end of Season 2 probably won't help things.