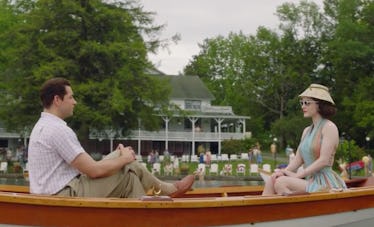 Midge Has A New Love Interest On 'Marvelous Mrs. Maisel,' So Get Ready
Amazon
For the most part, Season 2 of The Marvelous Mrs. Maisel does not introduce that many new characters at all. The show is still all about Midge Maisel's ups and downs in the stand-up comedy scene of the 1950s, as she is forced to balance her comedian lifestyle with curmudgeonly manager Susie with the high expectations of her upper-class parents Abe and Rose and the fraught feelings she still has for her separated husband Joel. These characters are still at the center of Season 2, but there is one notable addition: Benjamin. So, who is Benjamin on The Marvelous Mrs. Maisel? The new season brings in Zachary Levi to shake things up in Midge's life, and his character is sure to be a fan favorite.
Spoiler alert: This post will contain plot details from the first five episodes of The Marvelous Mrs. Maisel Season 2. At the end of Season 1, it appeared as though Midge would possibly get back together with her separated husband Joel Maisel after the two reconnected at their son's birthday party, but the Season 2 premiere reveals that they are still apart. In the first episode of the new season, Midge even calls Joel to see if they could possibly make their relationship work again, but Joel reveals that he is simply not comfortable with his life being broadcast via Midge's stand-up routines, and since he knows she is talented, he does not want her to give up her comedy, but that also means he can no longer be with her.
With Midge single yet again, her mother Rose uses their annual trip to the Catskills to find her a new man. Rose insists that Midge get to know a single young doctor named Benjamin, who is the son of one of Rose's friends. To get her mom to stop pestering her, Midge goes on a boat ride with Benjamin that does not go great, as they both refuse to pick up the oars. That seems to be that, until Midge needs a ride back to New York for her job and Benjamin is the only available ride. Surprisingly, the two actually bond over the car ride when Midge improvises a jokey radio show after the car radio loses reception.
Benjamin surprises Midge by asking her out to see a play with him, which she agrees to. When both Midge and Ben agree that they do not want to sit through the second act of the play, Midge instead takes Ben to see her pal Lenny Bruce perform at a nearby club. Afterwards, at the diner, Midge decides to tell Ben that she has a secret double life as a stand-up comic.
So now Ben is totally in the know, and it certainly seems like his and Midge's romance will only be heating up from here. But, than again, there is also always the question of Joel — he has seemed to struggle with his feelings for Midge even more in Season 2. It looks like Midge may find herself in a love triangle this season if Ben and Joel both admit their feelings for her.