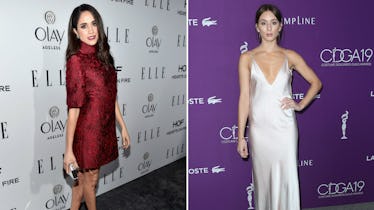 This 'Pretty Little Liars' Star Will Be At The Royal Wedding & Here's The Reason Why
Alberto E. Rodriguez/Frederick M. Brown/Getty Images Entertainment/Getty Images
Do you ever just get incredibly angry over the fact that you're not friends with someone in the public eye? Be it a celebrity or royalty, doesn't it just seem unfair that most people will never know how cool it feels to see someone in the news and go, "Hey, that's my friend, NBD." Maybe I'm petty (LOL, I know I am), but I just wish for once, I could befriend someone famous. And right about now, I'm craving an invite to the royal wedding, so if I had to choose what person to have on my speed dial, I'd totally go with Meghan Markle. My invite hasn't come yet (probably lost in the mail or something), but plenty of other A-list celebs have received theirs, including Pretty Little Liars actress Troian Bellisario, which leads me to one question: Are Meghan Markle and Troian Bellisario friends? The answer actually makes total and complete sense, so if everyone will take a seat, I'll explain the connection.
While it's unclear if Markle and Bellisario are buddy-buddy, what we do know is that Markle is definitely close with her former Suits co-stars, Patrick J. Adams and Gabriel Macht, and they will reportedly be attending the royal wedding. So where does Troian Bellisario come into play?
Patience, young grasshopper. Ask and you shall receive.
A source told Access Online that "Patrick J. Adams and his wife Troian Bellisario and Gabriel Macht and his wife Jacinda Barrett will attend the royal wedding of Prince Harry and Meghan Markle at St George's Chapel on May 19," meaning, YUP, Bellisario gets an invite because her husband starred with Markle on Suits. So, friends by association, perhaps?
The source also said that Adams and Markle, who played love interests on Suits, have "always had a close friendship" and that Markle was "definitely a beloved member of the longtime USA show."
Give credit where credit is due, fam.
Access Online also reports that "about 25 other members of the Suits cast" have gotten a royal invite, and now I'm beginning to feel like I'm literally the only person on the planet who has yet to receive a royal invitation.
Is it just me? Is anyone else not invited? Hello?
According to a statement released by Kensington Palace, a whopping 2,640 people are officially invited to the celebrate Meghan Markle and Prince Harry's wedding day. That number consists of 1,200 members of the public (none of which are me), 200 people from a variety of charities and organizations (also, not me), 100 students chosen from two local schools (sadly, no, still not me), 610 Windsor Castle community members (LOL,*definitely* not me), and 530 members of The Royal Households and Crown Estate, which, as you may have guessed, are also not me.
Would it be considered rude to try and find some alternative way into the ceremony? Just like, sneak into some bushes and watch the whole thing from the comfort of my leaf-filled post?
Sigh. I know that's probably illegal or whatever, so at the end of the day, it looks like I'll just have to mail the royal couple a wedding card.
Still, I'm beyond excited to watch (from my COUCH, calm down people) Meghan and Harry tie the knot, and I absolutely love the fact that she's keeping things traditional and will have her father walk her down the aisle, especially because that decision seemed to be up in the air for quite some time.
On May 4, the royal website shared an update from the press secretary to Prince Harry regarding some details about their wedding day, including the role Markle's parents will have:
The first thing I would like to share is that Prince Harry and Ms. Markle are very much looking forward to welcoming Ms. Markle's parents to Windsor for the wedding ... Both of the bride's parents will have important roles in the wedding. On the morning of the wedding, Ms. Ragland will travel with Ms. Markle by car to Windsor Castle. Mr. Markle will walk his daughter down the aisle of St George's Chapel. Ms. Markle is delighted to have her parents by her side on this important and happy occasion.
Yes, yes, yes. All of this, YES! While I'm still just a little disappointed that I won't be there to celebrate, it will be pretty awesome to see so many beautiful, successful, and important people all together sharing in the royal couple's special day.
And if anyone — literally anyone — attending needs a spare date, feel free to give your girl a holler.
Please. I'm begging you.