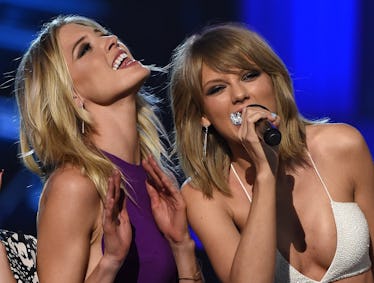 Martha Hunt Is Still One Of Taylor Swift's Biggest Fans & These Tweets Prove It
Ethan Miller/Getty Images Entertainment/Getty Images
With the release of Taylor Swift's new album, Reputation, the singer is back on the scene (and honestly, better than ever). Now that she's on the radar again, it's got plenty of people wondering whatever happened to her squad. More specifically, are Martha Hunt and Taylor Swift still friends?
There was a time when Swift's squad of powerful pals was talked about almost to death. Who was a part of the squad, who joined her onstage at her concerts, who attended her amazing parties, that kind of thing. There was a tight group of besties, and that included model Martha Hunt.
With Swift keeping her personal life out of the spotlight recently, that meant no mention of her girl pals, which of course, led to speculation that maybe she had a falling out with some of her squad members.
It's pretty safe to say, however, that Victoria's Secret model Hunt is still in Swift's inner circle. Kicking it back to 2016, when Swift's conversation with Kanye West made the rounds that seemed to prove that Swift approved of that racy "Famous" lyric when she had said she didn't, Hunt was among those who came to the singer's defense, tweeting:
"It's pathetic how quick our culture is to sensationalize a fabricated story... Take interest in the real problems going on. Spread love."
That's definitely the support of a close friend. But now that the squad seems to not be hanging out (or they probably are, but aren't posting pics on social media), how is Hunt doing?
When Swift's "Look What You Made Me Do" single was released in Aug. 2017, she was among those who tweeted their love for the new tune. Clearly a fan, she shared: "Working out like 5 x harder today."
Sounds like a glowing review, right?
On Nov. 9, Hunt tweeted about listening to Reputation, commenting: "Look what they made you do." Gotta love it. Hunt has so much insider information about Swift's shade, fans wish she'd tell all.
She later tweeted this lyric from Swift's song "Dress," which had everyone talking because it's so sexy: "Only bought this dress so you could take it off - take it off off offfff."
Fast forward to Swift's recent SNL appearance and Hunt was clearly loving the singer's performances, tweeting: "Can we talk about ‪#TaylorOnSNL Those moves and that high note! I AM HERE for #reputation era ‪@taylorswift13!"
And, if there was still any doubt that these two are still totally friends, check out her follow up tweet: "Idk.. I get emotional watching my friends do what they do best." That's pretty high praise.
She even retweeted a too-cute gif of Swift on SNL:
But that's not all... because Hunt was also there in person at SNL for Swift:
Given that Hunt is actively supporting the singer, we'd say there's no doubt that they're definitely still friends. But has Hunt spent any quality time with the singer's cats, notably Meredith, who she bonded with last year?
In an Instagram story in Sept. 2016, Swift chronicled how the model and cat became fast friends, noting, "Meredith loves only Martha and no one else," while showing the model and feline taking selfies together, with Swift explaining, "They're taking pictures together now. She never take pictures with me."
Swift definitely was feeling left out, captioning a video of Meredith and Hunt: "Tonight has been an emotional roller coaster."
Aw. It sounds like a girls' night with Swift, Hunt, and Meredith the cat may be in order soon.
Check out the entire Gen Why series and other videos on Facebook and the Bustle app across Apple TV, Roku, and Amazon Fire TV.