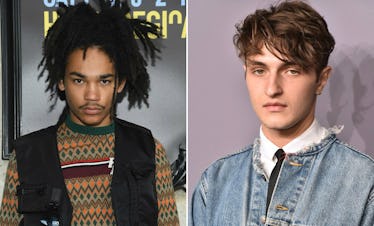 Kourtney K & Kendall Jenner's Rumored BFs, Luka Sabbat & Anwar Hadid, Have A Lot In Common
Pascal Le Segretain/Getty Images Entertainment/Getty Images | Theo Wargo/Getty Images Entertainment/Getty Images
Kourtney Kardashian and Kendall Jenner are definitely making headlines with their love lives right now. Not only have the two experienced breakups recently, but they've both moved on to other flings in recent months. While Kardashian has been having fun with model Luka Sabbat, Jenner has been hanging around with Anwar Hadid. And all that has fans wondering one thing: are Luka Sabbat and Anwar Hadid friends?
Well, there's no telling if they're particularly close at this point, but they definitely have a lot in common. The two young models were spotted having a double date with their ladies just a few days ago, on Oct. 8. All four parties looked totally relaxed and comfortable with each other, which has led fans to ask whether everyone involved is friendly. They certainly seem to be, but what fans may not know is that Sabbat and Hadid are much more alike than most people think. Here's how:
Both Guys Are Successful Models
Though Sabbat, 20, is primarily known as an actor who appeared on Grown-ish, he's also a model and all-around creative person. Hadid, 19, on the other hand, is mostly a model and a loving brother to his supermodel sisters Bella and Gigi Hadid. Needless to say, both Sabbat and Hadid have a passion for fashion.
Sabbat And Hadid Both Love Fashion
Like Hadid, Sabbat comes from a fashion-friendly family. According to E! News, his dad was a designer and his mother was a stylist for John Galliano and Dior. Even at a young age, Sabbat was really into fashion.
"I would be front row at Galliano and crying because the music is loud and everybody is clapping," Sabbat told W Magazine of his early memories. "I was just so confused. And then I would go backstage and all the models would hold me. That was the best part. I've always liked beautiful women."
Hadid has his sisters to thank for his love of fashion.
"They are so inspiring to me," Hadid told Marie Claire. They're always giving me little tips and making sure I understand that [modeling is] a way bigger process than everyone sees. There are so many different components and so many different people that it takes to move a project forward."
So, you could say that fashion is in their blood! And that makes them interesting matches for Kardashian and Jenner. Jenner is, of course, a model herself. And Kardashian definitely prides herself on being fashion-forward.
They Both Enjoy Hanging Out With Socialites
Best buds or not, Sabbat and Hadid definitely run in the same circles. Sabbat is reportedly good friends with Jenner and that friendship likely stems from modeling. And he's clearly into Kardashian, so he's familiar with the socialite scene.
Hadid also hangs with the Kardashians and Jenners. Beyond that, though, his ex-girlfriend is Nicola Peltz, who is an actress and socialite herself (her dad's a billionaire).
All in all, Hadid and Sabbat have so much more in common than the fact that they're dating two sisters from the same family. Plus, they're very close in age and on the same career path, so they probably have a lot more in common than the world knows about.