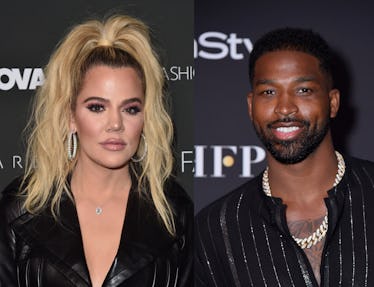 A Source Reveals How Khloé Really Feels About Getting Back Together With Tristan
Getty Images
Imagine for a second that you met someone and fell in love. And now imagine you and this person were able to share the pleasure of bringing a child into this world together. OK, here's where things take a turn. Now imagine you're about to give birth to said child when videos of your partner allegedly cheating start going viral. Oh, did I forget to mention you're also famous in this scenario? If you haven't caught my drift already, the hypothetical I'm detailing is Khloé Kardashian's reality. So, after all of that, are Khloé Kardashian and Tristan Thompson in love?
Well, according to a source, the two are reportedly better than ever. "Her relationship with Tristan is so good," the source told Entertainment Tonight. "They made it through some really dark times, but she's happy that she gave him a second chance because he's stepped up and is not only an amazing father to True, but he's been such a rock for Khloé. They're really just so in love." The source also added that the duo are in "such a good place now."
After mentioning that Kardashian has "never been happier" than she is now that she's a mom, the source even went on to allude to the possibility of Kardashian having another child with Thompson. "It was a difficult journey [for Khloé] to get pregnant the first time, so she's aware it may take some time again," the source told Entertainment Tonight. "She doesn't want to delay trying. That being said, she's not putting any pressure on herself or overthinking it. It will happen when it happens. [She's] not not trying."
And Kardashian isn't the only member of her family ready to make another baby. "Kylie and Travis are going to wait until he's finished his [Astroworld] tour before trying for another baby," the source explained to Entertainment Tonight. "They want to have another child soon so it's close in age to Stormi, but they do not want to do this while he's busy on the road."
"Kylie and Khloé would love to be pregnant together again. And it seems like the timing could work out that way," the source continued to Entertainment Tonight. "It was a real bonding experience for them, but more importantly, it's been amazing for their daughters to be so close in age. There are so many kids/grandkids in that family, that's really where the family's attention is. It's all about the next generation."
Now, as a fan of Kardashian's and someone who strongly believes in the importance of following your heart, let me make one thing clear. I think it's easy for a lot of us to sit back and judge Kardashian for choosing to be with the person who reportedly disrespected her in that way. That being said, I think we all need to accept the fact that no two relationships are alike, and there's no one path that's right for everyone. We all have the capacity to fall in love, we all have the capacity to hurt those we love, and — most importantly — many of us are capable of forgiving those who hurt us.
As true fans of Kardashian, we could all do her a huge favor by respecting her decision and being truly happy that she's found happiness with a person she loves.