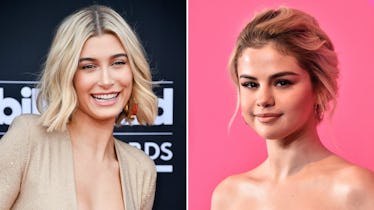 Everything Hailey Baldwin's Said About Selena Gomez Proves There's No Drama Between Them
Frazer Harrison/Getty Images Entertainment/Getty Images
It was only just a few months ago that Selena Gomez and Justin Bieber seemed to have finally gotten back together for good after dating on and off since 2010. But then they randomly broke up, the Biebs moved on with Hailey Baldwin before you could say "There's gonna be one less lonely girl," and the next thing you knew, Bieber and Baldwin were engaged! He reportedly proposed on July 7 during a trip to the Bahamas, seemingly out of nowhere. The whole situation was super-confusing to fans, since Bieber and Gomez had split so recently. Not to mention, Baldwin was rumored to be dating Shawn Mendes. So, if you're anything like me, you're now up at night wondering how this engagement is affecting everyone involved. Like, are Hailey Baldwin and Selena Gomez friends?
They shouldn't be, right? I mean, they've been in love (on and off) with the same guy since forever, so there's got to be a whole bunch of tension there somewhere, right? But then again, maybe Gomez is actually over the whole Bieber thing so why shouldn't they be friends? After all, Baldwin was a pretty big Jelena shipper back in the day, so that's gotta count for something, right? I mean, back in February 2012, she was majorly bummed when the teen lovers didn't show up for the Vanity Fair Oscar party together, and she took to Twitter to complain about it in a since-deleted tweet.
"I gotta say I was really looking forward to seeing what color coordination Jelena was gonna do for this years VF party. #sigh #ohwell," she apparently tweeted to her followers.
I mean, that's kinda cute, right? Has Gomez sent out a similar tweet? Uh, no.
The Zach Sang Radio Show also recently posted screenshots of other alleged old Baldwin tweets where she stans hard for Jelena. They say things like, "I don't care what anyone says but Justin Bieber and Selena Gomez together is the definition of a teenage dream!" and, "I'm 100 percent team Jelena."
The tweets are cute and all, but friends? I don't think Gomez even knew Baldwin existed yet, since this was back before Jailey officially became a thing in 2014.
But by 2016, Gomez definitely knew who Baldwin was, and there were rumors that the two of them didn't like each other because they were fighting over the Biebs. But Baldwin cleared all that up in an interview with Us Weekly, though.
"I think it sucks that people try to start things like that," she explained. "[Selena] is a lovely girl. She's very kind. Her and I have a lot of mutual friends and it's all cool between everybody. We run in the same circles."
Speaking of running in the same circles... in February 2017, Baldwin was spotted hanging out with Gomez's posse.
So does mutual friends = friends? Maybe. Because in April 2017, Baldwin, Gomez, and her then-BF The Weeknd were all spotted backstage at a John Mayer concert.
Baldwin even posted a video on Instagram from backstage at the show, and if you look real close you can see Gomez hugging The Weeknd in the background!
#TBT!
It looks like the ladies kept a safe distance between themselves, though, so let's move on.
Of course, there was also that time in August 2017 that Bieber, Gomez, and Baldwin all attended the three-day ZOE Church Conference in Los Angeles and all posted about it on social media.
But again, this is far from proof that Gomez and Baldwin are friends. In fact, we don't even know if they spoke to or even saw each other inside.
But, with that being said, it seems like it's pretty safe to assume these ladies are at least cool with each other. They probably don't have each other on speed dial, but they clearly run in the same circles and there's no reason to believe there's any bad blood between them.
And that's good to know. Especially since Bieber and Baldwin are now engaged. But, I mean, I think it's safe to say the two women won't be having sleepovers and braiding each other's hair any time soon.
Pretty sure Baldwin's got someone to do that for her now, anyway.