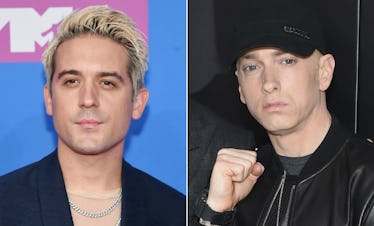 Here's How G-Eazy Is Connected To The Eminem & Machine Gun Kelly Feud
Jamie McCarthy/Getty Images Entertainment/Getty Images | Dimitrios Kambouris/Getty Images Entertainment/Getty Images
G-Eazy and Eminem sure have been making headlines in recent weeks. With each rapper navigating his own feud with Machine Gun Kelly, the two seemed to have formed somewhat of a bond. But are G-Eazy and Eminem friends? Since much of their connection to each other has been clouded by their respective feuds with Machine Gun Kelly, it's hard to say for sure what, if any, friendship exists between them. Here's what I can tell you, though: G-Eazy definitely seemed to side with Eminem when he was in the thick of his diss track battle with Machine Gun Kelly in early Sept. 2018.
In a recent Instagram post, G-Eazy shared a photo of himself with Eminem. He captioned the photo with, "Let's talk about it" which was a reference to Machine Gun Kelly's diss track "Rap Devil." In "Rap Devil," Machine Gun Kelly accused Eminem of blackballing him.
Here's a look at some of the lyrics to "Rap Devil":
Let's talk about the fact you actually blackballed a rapper / That's twice as young as you (let's talk about it) / Let's call Sway / Ask why I can't go on Shade 45 because of you (brrt) / Let's ask Interscope / How you had Paul Rosenberg tryin' to shelf me (huh?) / Still can't cover up the fact / Your last four albums is as bad as your selfie / Now tell me, what do you stand for? (what?) / I know you can't stand yourself (no) / Tryin' to be the old you so bad you Stan yourself (ha) / Let's leave all the beefin' to 50 (please) / Em, you're pushin' 50
With that in mind, here's the photo G-Eazy posted to Instagram:
‌ arrow_upward arrow_downward delete g_eazy on Instagram more_horiz Edit details… Replace media Remove media View media source ‌
They look pretty friendly, right? So, I guess we can take G-Eazy's Instagram post with its references to MGK's diss track as a sign that he's at least friendly enough with Eminem to side with him. But there's more to it than that.
As previously mentioned, G-Eazy has been hashing it out with Machine Gun Kelly, too. The two rappers have been at odds thanks to some photos of Machine Gun Kelly and G-Eazy's girlfriend Halsey that surfaced in July. Although the photos were old and Halsey and G-Eazy were taking a break from romance at the time, the photos still seemed to get under G-Eazy's skin.
Just a month later, Machine Gun Kelly stirred the pot with a freestyle on Hot 97 about his alleged encounters with Halsey:
Let's just keep it G, only Easy I f**k with is E / I seen he's dyed his hair and got a hanging earring / I f**ked his girl now he looks like me this sh*t overbearing / How dare him, I dare him, don't think about comparing / Turn that frat rap off I'm getting sick of hearing
Elite Daily reached out to Halsey's team for confirmation of MGK's claims, but did not hear back by the time of publication.
In response, G-Eazy created his own diss track:
MGK please stop trolling me, get over me / You wanna be me, you're mad that you're not as big as me… / Call a Uber, turn on the radio, imagine hearing me / Him & I's on, mad you're listening to Halsey sing to me … / Disrespect her again, I'll smack you, I'm not a boy.
So, given all that complicated history among these rappers, it's very possible that Eminem and G-Eazy have bonded over their mutual dislike for Machine Gun Kelly. But it doesn't really seem like they'll be hanging out anytime soon. Both rappers are following their own paths at the moment. Perhaps there'll be time in the future for them to collaborate and form a genuine non-feud-related friendship.