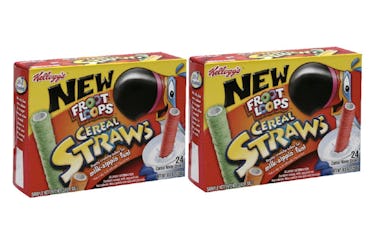 Froot Loops Cereal Straws Are Coming Back So '90s Kids Can Relive Their Childhood
When I was a kid, most of my Saturday mornings consisted of sitting on the couch, watching cartoons, and snacking on Froot Loops Cereal Straws. It was a much simpler era — and sometimes, I wish my weekends as a 26-year-old could be that carefree. Recently, I've even asked myself, "Are Froot Loops Cereal Straws available?" To my surprise, two versions of the edible straws are coming back for a limited time, and I cannot wait to start my mornings with them.
I'm sure you're probably feeling nostalgic and excited right now, but you might have some questions. Why are Froot Loops Cereal Straws even coming back, and are they the same straws that '90s kids enjoyed growing up? I have the answers, my friends, so read on.
If you're up-to-date on environmental news, chances are high that you know about the plastic straw ban that's sweeping the nation. Many companies — like Starbucks and SeaWorld Entertainment — are hoping to ditch plastic straws in the near future. Unsurprisingly, people on social media have caught onto the trend and offered their own replacement ideas for the soon-to-be-gone plastic straws.
Take Twitter user @AlexHughesie as an example. His tweet made it to Instagram and quickly went viral after he suggested bringing back Froot Loop Cereal Straws.
In a tweet, he said, "Since we're starting to become more environmentally savvy and ditching plastic straws, may I recommend bringing these bad boys back."
I have three words to say about that:
The viral tweet isn't the only thing that helped bring Froot Loops Cereal Straws back for a limited time, though. Last year, a Change.org petition was made with hopes of bringing back the breakfast favorite. It's called, "Bring back Froot Loops Cereal Straws," and over 12,000 people have signed it so far. The signature count climbs every hour — so I guess '90s kids are really craving the snack.
Hannah Wade, the woman who started the petition, wrote a description that explains why the world needs Froot Loops Cereal Straws again. She wrote,
Froot Loops Cereal Straws were discontinued in 2009. People around the world seem to be nostalgic for this delicious treat from our childhood. Bringing back Fruit Loops Cereal Straws would bring joy to my generation and generations to come.
Between social media's plead for the straws and the petition on Change.org, Kellogg's decided to bring Froot Loops Cereal Straws back for a limited time. However, they aren't the exact straws you're used to.
Instead, the company is releasing two new takes on the edible straws that will be unveiled on Aug. 6 at Kellogg's NYC Café. The new straws — called the Froot Loops Cookie Straw and the Stacked Froot Loops Straw — will be available for one week only at the New York City location. That means you'll have to wake up bright and early and head to The Big Apple if you want to start your day off with one of these treats.
TBH, the new Froot Loop Cereal Straws look better than ever, and I'd be more than happy to drink my milk through them. (Who am I kidding? I'd be just as content eating them straight from the box.)
If you're hoping to get in on the nostalgic snack, plan your trip to the Kellogg's NYC Café during the week of Aug. 6.