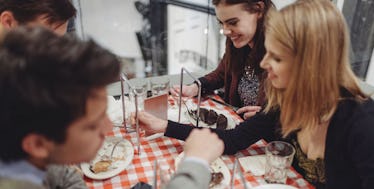 5 Reasons You Should Turn Your Next Date Night Into A Classic Double Date
When you first start dating someone, you may be worried about how to keep conversation going, especially over a dinner date. One solution? A double date. When you go out with another couple, you have more people to interact with, which might alleviate potential awkwardness. If you've never been on a double date and are wondering are double dates a good idea, well, I think they are.
BTW, you could make it more than a "double," too. Feel free to invite more than just one couple, especially if you want it to feel like a larger group setting for a more casual vibe. Dating with other couples can potentially allow you to feel more relaxed, and less like you're the sole focus of the date itself. I know for me personally, I enjoy not being the center of attention when I date in a bigger group setting. Plus, if you're with other people you know on the date, you may let your personality shine through even more just by being surrounded by familiar faces.
So here are the five reasons I love going on double and group dates.