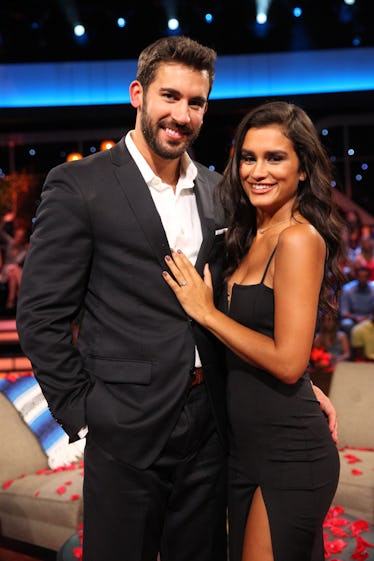 'Bachelor In Paradise' Fans Have Questions About Taylor & Derek's Current Relationship
ABC/Paul Hebert
Now that Season 5 of Bachelor in Paradise has an official release date that's less than two months away, fans of the franchise are naturally revisiting unions from the show's storied romantic past. Season 4 had a happy ending with Derek Peth and Taylor Nolan — the couple got engaged on BIP's season finale during the reunion show. But are Derek and Taylor still together almost a year later? Bachelor Nation is wondering about their relationship status and if there will be further wedding updates soon.
Taylor and Derek seemed like a solid match among the franchise, hitting things off relatively quickly in Season 4 and remaining coupled up throughout their time in Mexico. The pair weren't exactly fodder for reality TV drama throughout filming, although they did engage in one heated argument that had audiences thinking they were going to call it quits. Derek apologized and all was resolved. The whirlwind romance culminated in a fairytale proposal complete with a Neil Lane ring, Chris Harrison, and a studio audience.
"I don't think it's something we're going to rush into, or that we've ever really discussed yet," Taylor explained back in September, when Access asked if a TV wedding would be in the works.
That same month, Peth opened up about how he knew Taylor was the one while gushing to People:
Paradise was amazing, I definitely had started to fall in love with Taylor while we were there but once I went to Seattle and saw her friends and family, it definitely was seeing her heart connect with her loved ones and her animals. There was one morning where we were drinking coffee on the porch looking at Mt. Rainier and reflecting and I was dang, I love this girl.
Following their small screen courtship and subsequent engagement, Taylor and Derek were quite active on social media, sharing snaps of the two of them hanging out, cuddling, traveling, and just being their adorable selves. Taylor even lamented about the "stress" of long distance in a post from February. Most recently on June 7, she tagged Derek in a funny Instagram photo, soliciting her followers for captions.
Derek isn't as active on Instagram, although he did share a photo of himself alongside his fiance in NYC in April. He also tweeted a video of the two of them watching the premiere of Becca's Bachelorette season on May 28.
But their joint lack of Instagramming over the last months prompted fans to wonder if there was trouble in, er, paradise.
But smiley Instas do not necessarily a healthy relationship make. Perhaps Taylor and Derek are just taking it easy on the public social media displays of affection and wedding planning isn't their top priority these days.
Seattle native Taylor, who was introduced to the Bachelor franchise when she competed on Season 21 vying for Nick Viall's heart, has a Master of Science in Clinical Mental Health Counseling and currently hosts her candid Let's Talk About It... podcast. Derek, from JoJo Fletcher's Bachelorette season, is a commercial banker who announced a move to New York City last November.
Nolan has discussed her approach to making it work with Derek, telling People:
I want to feel like I'm my own whole person and just have someone to share my life with. I don't want to be dependent on someone else to feel good about myself. The team aspect is really important to me. Once I expressed that to him he definitely picked right up on it. He was like, 'Yup we're a team. I want to be a team.'
If Bachelor Nation is patient, maybe they'll get official word on where the bride-and-hubby-to-be stand when Season 5 of BIP commences. The show has a history of inserting "where are they now"-type segments, as viewers know by now. Anything's possible in Paradise!