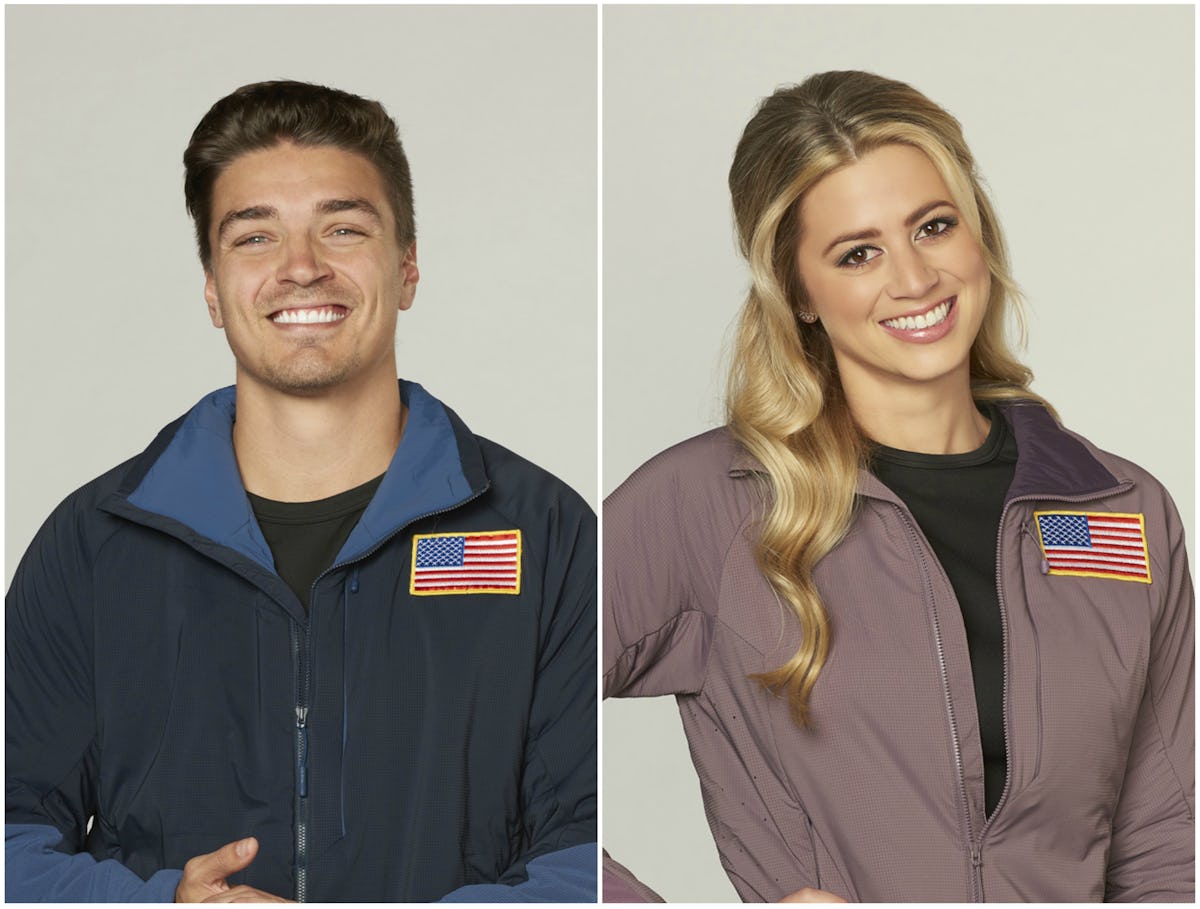 Dean May Be Dating This 'Bachelor Winter Games' Contestant & We're Ready For The Drama
At this rate, romances formed on Bachelor Nation spinoff shows are often more solid than ones originating on The Bachelor and The Bachelorette. Bachelor in Paradise has already led to two lasting marriages, while its most recent season resulted in an engagement and a committed dating couple. We don't know much about the upcoming Bachelor Winter Games, but I definitely wondered if the show having a new competitive spirit would prevent any romantic connections. Apparently not — sources say that contestants Dean and Lesley are dating, and I'm seriously intrigued about this pairing.
E! News reported that the pair were recently seen holding hands while at a party at the Sundance Film Festival in Utah. Multiple sources then claimed that Dean and Lesley were an item, but "weren't supposed to be in public together yet." Hiding out until the TV gods say you're free is Rule 1 for Bachelor couples, guys! Get with the program!
A source also revealed that the two are taking things pretty seriously. "They are exclusive as of now," the source said. "They have been spending a lot of time together since the show ended filming."
Fans will remember Dean Unglert from the most recent Bachelorette season, on which he basically came across as a pure-hearted puppy despite having a difficult family situation. He was several years younger than his Bachelorette, Rachel Lindsay, and the age difference likely played a factor in his post-hometowns elimination.
Although he left the show as a heartbroken hero and made a much-welcomed appearance on Paradise, poor Dean quickly fell from grace. Trying to juggle two different women, Kristina Schulman and Danielle Lombard, throughout the season, Dean's innocence that was endearing on Bachelorette came across as cluelessness in Paradise.
Ellen tried to break it down by inviting the awkward love triangle onto her show, but it didn't help Dean look any better:
Rumors of Dean maintaining a relationship with his original Paradise lady, Kristina, persisted until as recently as November. Speaking to ET, the 26-year-old revealed he wasn't in touch with Danielle anymore, but was "still figuring everything out" with Kristina.
Cue Bachelor Winter Games filming. Just when you think you're out, Bachelor Nation will pull you back in.
30-year-old Lesley Murphy first appeared on Sean Lowe's Bachelor season, finishing in fifth place. You may remember her as the girl who broke a Guinness World Record with Sean for longest onscreen kiss. Yes, that's a thing.
Since then, she's kept her distance from the franchise, running a travel blog and recently making headlines for getting a preventive double mastectomy. Her involvement with Winter Games was pretty unexpected, but if you think about it, her getting together with Dean makes a lot of sense.
Lesley chose to receive a mastectomy after learning that she has the BRCA 2 gene, which significantly increases her chance of being diagnosed with breast cancer. Seeing as her mom is in remission from her own breast cancer diagnosis, Lesley made a wise choice in taking control of her health.
While on Rachel's season, Dean spoke openly about losing his mother at a young age. On Instagram, he discussed her experience with breast cancer in honor of Breast Cancer Awareness Month in October.
We may not know until well into the run of Bachelor Winter Games, but it seems totally plausible that Dean and Lesley bonded over their close encounters with cancer and unpredictable health. This definitely adds a deeper level to their supposed relationship that Dean never seemed to have with any of his other franchise romances. It's also great to know that Lesley's return to Bachelor Nation may have ended positively. I wish these two luck if they truly are an item!
The Bachelor Winter Games premiere on Feb. 13 at 8 p.m. ET on ABC.