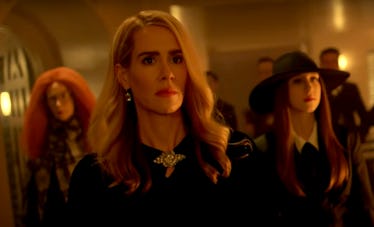 This 'AHS: Apocalypse' Theory Could Explain Where The Coven Characters Are
FX
American Horror Story: Apocalypse is finally here, but we did not get to see everything that we were expecting in that premiere episode. The new season was teased as a crossover between past seasons Murder House and Coven, but the first episode focused almost exclusively on a brand new set of characters. The only exception came what one Murder House standout made his grand return at the very end. So, where are the rest of the characters we all know from seasons past? A new fan theory asks the pressing question: are the Coven characters in another outpost on AHS: Apocalypse? Let's start theorizing about when and how our Coven and Murder House faves will show up in Apocalypse.
Spoiler alert: This post will contain spoilers for the season premiere of American Horror Story: Apocalypse. In the first episode of Apocalypse, we met a whole bunch of zany new characters. As nuclear missiles fell on Los Angeles, socialite Coco St. Pierre Vanderbilt (Leslie Grossman) managed to get herself and three others — her assistant Mallory (Billie Lourd), her hairdresser Mr. Gallant (Evan Peters), and Gallant's grandmother Evie (Joan Collins) — into the exclusive underground bunker called Outpost Three. Meanwhile, two teenagers named Timothy Campbell (Kyle Allen) and Emily (Ash Santos) are forcibly escorted by guards to this outpost, as its revealed that they were pre-selected to survive due to some element of their genetics.
Outpost Three is run by Wilhemina Venable (Sarah Paulson), an incredibly strict authoritarian who says she is the face of the mysterious Cooperative at the outpost. At the end of the episode, we finally meet one of the members of this Cooperative: none other than Michael Langdon. AHS fans will definitely remember that name from Murder House. Michael Langdon was the antichrist baby born of Vivien Harmon and Tate Langdon at the end of that season, and now he is all grown up and even creepier than ever.
But will we see a Langdon family reunion later this season? Ryan Murphy has already confirmed that Tate Langdon, Constance Langdon, and the whole Harmon family will appear in this new season. But when will they show up? And that same question goes for all the Coven stars that we know are going to pop up at some point. Michael Langdon may have actually dropped a clue about where these familiar faces could be hiding after the nuclear apocalypse at the very end of the premiere.
As the name suggests, Outpost Three is only one of several underground outposts that are filled with apocalypse survivors, but Michael says that most of these outposts are doomed to fail. His job is to select whomever he sees fit to bring with him to an ultra-safe outpost that has enough food to last years. So, could the other remaining outposts include the Coven witches and the Murder House ghosts? Fans have already theorized that one of the outposts is likely beneath the Murder House, and it could make sense that another one is near Miss Robichaux's Academy.
The next couple of episodes may take us into the other outposts, possibly showing us how the Murder House and Coven characters are dealing with the apocalypse. Hopefully, everyone will come together shortly after that.