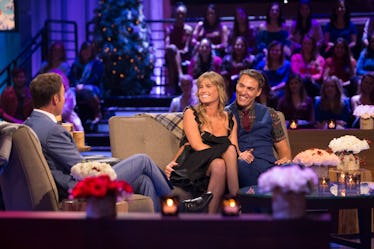 Courtney & Lily Showed Off Their Adorable Post-'Winter Games' Romance At The Tell-All
When it comes to the couples that formed on Bachelor Winter Games, international pair Courtney and Lily came together instantaneously, but the camera tended to skim over them when exploring the new love stories in the house. You can probably blame that on the fact that American audiences don't know their Bachelor backgrounds and weren't emotionally attached to them in the beginning. In a world where affections are often soiled within the course of a single conversation (um, Bibi and Jordan), this couple's commitment to each other has always seemed solid, so are Courtney and Lily still together?
On their first official date on Winter Games (aka the first on-camera conversation between them lasting more than a minute), Bachelorette Australia alum Courtney admitted to Lily that he was falling in love with her. New Zealand contestant Lily said that the feelings were mutual, but in a move that clearly emphasizes how international Bachelor franchises are far more reserved than the American show, they both decided to forego sleeping in the fantasy suite together.
Based entirely on the fact that I enjoyed hearing their accents together, I felt that they were definitely the most relaxed-seeming couple after seeing this date. But then again, anyone who probably grew up celebrating Christmas at the beach in Australia or New Zealand will probably be more relaxed than most people.
Appearing together in the World Tells All reunion special, the two's body language made it clear that they were still together and happy. Lily and Courtney revealed to host Chris Harrison that, instead of heading home after filming, they took a cross-country RV trip together over Christmas. Um, suddenly I have a bucket list item I never knew I needed.
The couple even shared a video package of their trip, containing footage of themselves in New York, Nashville, and their very own RV. Take away the Bachelor label and the video looked as if it could have been taken by one of those YouTube couples who sell all of their belongings for worldwide travel. They even rocked some ugly Christmas sweaters in what looked like an empty field, proving to me that love does exist. While she competed on The Bachelor New Zealand, Lily is also an Australian native, so leave it to the Aussies to tell us how wrongly we've been celebrating holidays.
After playing the video, Courtney revealed that the trip made them grow even closer together and that the road trip's success contributed to their decision to move to L.A. together. I envy people who can so casually and bravely uproot their lives, and the fact that these two did it together speaks wonders about the strength of their relationship.
Following the finale, Courtney was quick to share his admiration for Lily on Instagram, posting a picture of her trying to catch him as he fell on ice.
I had a solid partner to peel me off the ice and turn this slug into a beautiful ice dancing butterfly.
Proving that she may be even wittier in this relationship, Lily also posted a photo from the finale episode. Sharing a shot of her perspective when Courtney threw snow at her window, she simply wrote, "Nah sorry didn't order Uber eats."
Clearly, these two know how to laugh and have built a solid relationship over the past few months. Something about their personalities just makes them mesh well, and I wouldn't complain if they turned their L.A. adventures into a YouTube series. Okay, maybe their accents would be half of the reason why I'd tune in, but their sweet love story definitely helps.
Congratulations, Courtney and Lily!