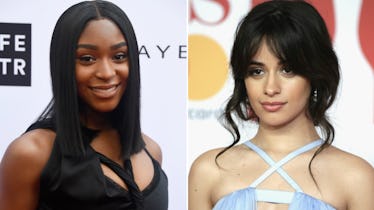 Normani Kordei Opened Up About Her Relationship With Camila Cabello & It's Surprising
Frazer Harrison/Getty Images Entertainment/Getty Images | John Phillips/Getty Images Entertainment/Getty Images
It's been just about three weeks since the ladies of Fifth Harmony announced they were going their separate ways. While the group intends to remain publicly and privately amicable, Normani Kordei raised questions in a recent interview about the group's relationship with former Fifth Harmony member Camila Cabello. According to Kordei, she hasn't spoken to Cabello in quite some time… which leaves fans to wonder: Are Camila Cabello and Normani Kordei friends?
On Saturday, April 8, 21-year-old Kordei told reporters at the Daily Front Row's Fashion Awards in Beverly Hills that she hasn't heard from Cabello since announcing her intentions to go solo in March 2018. Does that mean Cabello didn't wish her well or congratulate her? It kind of sounds like it. The news of a potential rift wouldn't come as much of a surprise since Cabello exited Fifth Harmony without much of a head's up to her fellow groupmates. But all that's the past, at least according to Kordei. The singer wants fans to rest assured that there are no hard feelings between her and Cabello.
"She's killing it. She's freaking killing it. I'm super proud of her," Kordei said of Cabello. "She is in her own space and she's happy."
Cabello, 21, has also been on the defensive, making sure the world knows she's supportive of the ladies of Fifth Harmony. In a March 2018 interview for the Dan Wootton Interview Podcast, Cabello clarified whether there was any bad blood between her and other members of the group:
"I don't have room or desire to have any bad feelings with people. The reason I don't like talking about it is because I don't want to fight," she said. "I genuinely wish them the best and I just have love for them and the whole journey we went through."
No impending feud to worry about here, folks! At least that's how they're making it seem. Whatever caused the break in communication between Kordei and Cabello will hopefully blow over and allow the two singers to simply move on from this point in their journey. Even if it never does blow over, they're handling it with a sense of maturity and mutual respect that shows they do have each others' best interests in mind when discussing these matters publicly. I commend them for that!
Now, for fans wondering what exactly caused Fifth Harmony to disband altogether, the gossip there is probably not as juicy as some might hope.
"Nothing necessarily happened. It's been six years that we dedicated absolutely everything that we've had to the group," Kordei explained. "We recognize that we deserve to be our own people. I'm excited for everything that they have coming up and I know they are for me too!"
The group — which also included Ally Brooke, Dinah Jane and Lauren Jauregui, as well as Kordei — announced their split on March 19 via Twitter:
As any creative person knows, there's nothing more fulfilling or valuable than being your authentic self as an artist. And that these young performers can support each other so openly and so wholeheartedly without jealousy or competitiveness is a really beautiful thing. It just goes to show how tight-knit the group was at one time, even in spite of their very public ups and downs.
No matter the status of Fifth Harmony as a group or of the singers as individuals, one thing's clear: each has had a hand in creating some incredible music and they've built a really solid foundation on which to launch their solo careers. It's going to be exciting to see where these ladies land their feet next!