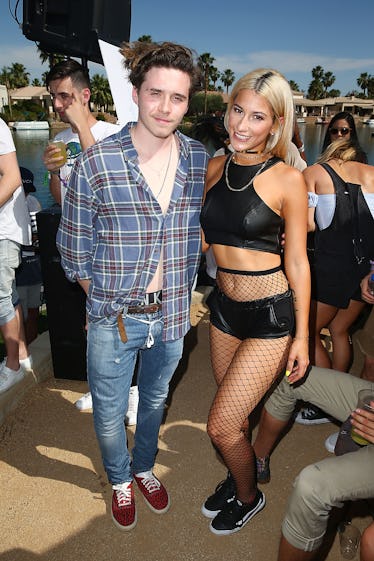 Brooklyn Beckham Has Apparently Moved On From Chloë Grace Moretz To This Star
Joe Scarnici/Getty Images Entertainment/Getty Images
Age ain't nothin' but a number! At least, that's the case when it comes to 19-year-old model Brooklyn Beckham and 29-year-old YouTuber Lexy Panterra. The two have recently been seen out and about together, which has sparked lots of dating rumors. So, are Brooklyn Beckham and Lexy Panterra dating? An insider source for People says yes. Elite Daily reached out to Panterra's team for comment on the report but did not hear back by the time of publication.
A source close to Beckham and Panterra revealed to People magazine that the two stars are most definitely dating:
They are definitely together. They've been dating for a little while now.
Beckham and Panterra were first spotted together at an event in April 2017 in La Quinta, California. But it wasn't until a full year later that the two sparked romance rumors.
More recently, in May 2018, Beckham and Panterra were seen together in New York. At least, according to Us Weekly. At the time, a source revealed to the magazine that the two were getting cozy:
Lexy and Brooklyn had a whirlwind romance last week in New York City. Brooklyn and Lexy were holding hands during dinner and couldn't stop laughing and touching each other.
And now, an insider source for the magazine has revealed that the new couple "enjoyed dinner with friends at Sushi Samba in London last week."
Us Weekly's source also explained that Beckham and Panterra enjoyed another outing in London.
"The new couple headed to Cirque le Soir," the source said. Apparently, Beckham and Panterra "were inseparable, dancing, hugging, and kissing in the VIP section."
So, things appear to be heating up between the two. And no one should be surprised, to be honest, because the couple has been sharing pics of themselves on social media for a little while now:
Here's a pic Panterra shared just days ago:
News of this new relationship comes just weeks after Beckham was spotted out with Playboy model Lexi Wood. That, of course, sparked rumors that Beckham had broken up with his on-again-off-again girlfriend, Chloë Grace Moretz.
Beckham and Moretz started dating back in 2014 and have basically been inseparable ever since. While they've had their fair share of ups and downs, they always managed to find a way back to each other.
Back in 2017, after some time away from each other, Moretz explained her views on the relationship:
I think we chose each other. I think we really understand each other. It's been years now, off and on, and it's just one of those things where you come back and it's like no time was spent away from each other at all and that's the most important thing.
As important as the relationship was to them both, it seems like maybe things didn't work out as planned, which is always sad. There's been no word on whether Beckham and Moretz have officially split, but the last time he posted anything about her on social media was way back in February.
Here's the pic he posted on Insta:
The post was meant to acknowledge Moretz's birthday, so Beckham included the following caption:
Happy birthday baby 🌷 love you to the moon and back xx
Super sweet, but perhaps not sweet enough.
On Panterra's side of things, not much is known about her dating history. In 2017, she was rumored to be dating Gregg Sulkin, who was Bella Thorne's former beau. Other than that, though, she's a complete mystery. I guess fans will just have to keep tabs on her as this new romance with Beckham moves forward.