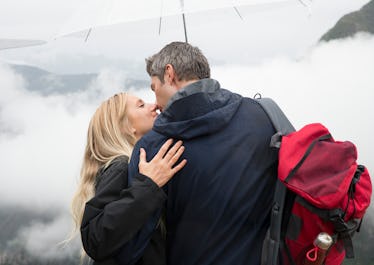 Arie & Lauren's Road Trip To Arizona Has Begun & They're En Route To Moving In Together
We followed Bachelor couple Arie Luyendyk and Lauren Burnham through their riveting conversations about coconut milk, near-silent walks in Paris, awkward engagement, and their "social media break" that included plenty of Instagram photos of their European vacation. Throughout their post-show media appearances, the couple promised that their next move was driving across country to be together in Arizona. So, seeing how differently their "no social media" pledge played out, are Arie and Lauren living together? At the moment, they're en route to their new home in Scottsdale, Arizona, so it looks like they kept their word on one of their promises.
The engaged pair has returned to America and officially begun their road trip from Lauren's home state of Virgina to Arie's home in Arizona. As of Thursday, they were crossing through Arkansas and keeping busy by playing with Instagram filters. In an unexpected and slightly uncomfortable look into Lauren's personality, she posted several Instagram stories of herself wearing filters of an old man's face (or "grumpy Arie," as she described it), a bearded face, and in the case of one story, a legitimate face mask. While I could have gone without seeing "grumpy Arie," I might need to try the brilliant hack of a road trip face mask on my next long drive.
Lauren's dog Dallas has also tagged along on the trip, posing with her and Arie in another Instagram photo opp. He'll join Arie's dog, Bastian, once the group reaches Arizona.
Arie captioned the family photo "gezellig," which is a Dutch word meaning anything from cozy to friendly. It can also equate with simple togetherness and being with loved ones. OK, Arie, you won some points from me with that caption choice.
With unconfirmed reports of Arie and Lauren wanting to get married this summer swirling around, the couple has been pretty clear about the fact that they don't care what others think of them. Speaking to People about staying on social media during their trip to Europe, Lauren clarified that they chose to avoid reading people's comments online rather than leave social media entirely:
I know our social media 'break' has been a topic of conversation. We have just been excited to share our life outside of The Bachelor with everyone since we've been having so much fun! The break we mentioned was more directed towards spending time reading comments, not about posting pictures.
Given how Lauren came across as so timid on the show, it isn't too surprising that the two aren't holding back how much they share. As Arie said during the couple's post-finale interview on Live with Kelly and Ryan,
Lauren had trouble opening up on the show a little bit and our relationship developed late and I was always sort of vying for her affection.
Meanwhile, a source tells E! News that Lauren is moving past the difficult transition from The Bachelor back to real life and focusing on her wedding plans:
Lauren has been telling everyone that she is so excited to get married and wants it to happen very quickly. After everything that they have been through, they are ready to just seal the deal and spend forever together. Lauren loves the spotlight and doesn't care that her fiancé is not liked by America. Lauren has already been planning the details of their wedding and is really excited about it.
I'm sure that we'll see plenty of other pics from the road and Lauren's first few days in Arie's home soon. The couple hasn't announced an official wedding date yet, but I'm sure our beautifully bland Bachelor pair will keep assuring us that the big day will happen by the end of the year. Here's to their new beginning!