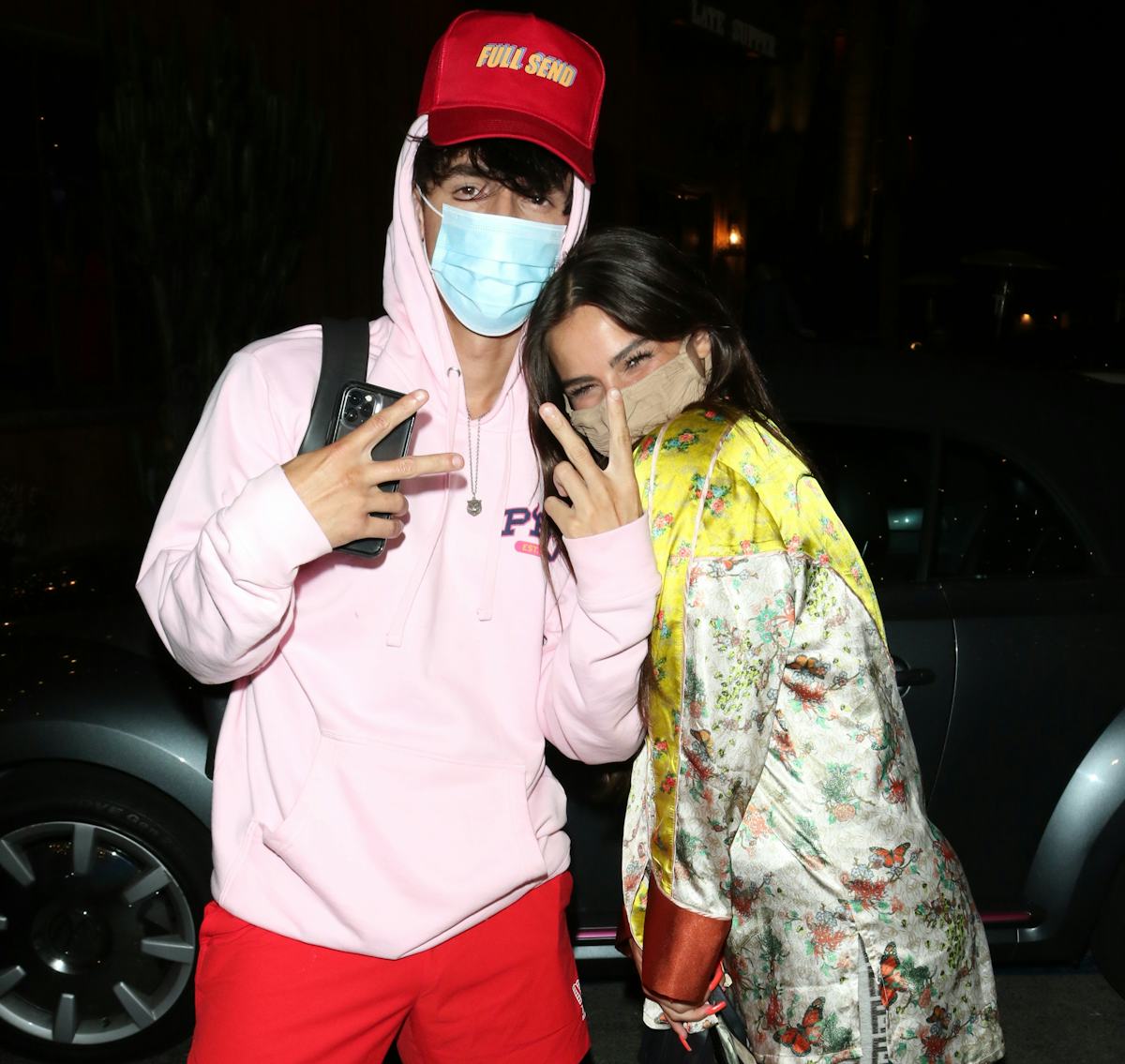 Addison & Bryce May Be Back On, Based On This Reported Update
Wil R/Star Max/GC Images/Getty Images
TikTok fans, remain calm. But there's a chance Addison Rae and Bryce Hall may be back together. I mean, you might have already guessed that based on the multiple social media posts of them dressed as Harley Quinn and the Joker on Halloween, but now The Hollywood Fix legit has video footage of them kissing in their costumes on Halloween night. (Elite Daily reached out to reps for Rae and Hall for comment on their current relationship status, but did not hear back in time for publication.)
In the eight-minute-long video, which The Hollywood Fix posted on Nov. 1, Hall and Rae can be seen sitting with a group of friend at Saddle Ranch, a TikTok star hot spot in Los Angeles. The two seemed to be having a good time chatting with their friends and with each other for about five minutes of the video, but things started to get juicy when they left.
Upon leaving, about seven minutes into the video, The Hollywood Fix managed to snag footage of them kissing in the back alley behind Saddle Ranch. Hall appears to have gone in for the kiss first. While The Hollywood Fix calls their moment a makeout, it's truly more like a peck.
The next night, they each shared photos of themselves in costume as the Joker and Harley Quinn.
Now, needless to say, the fact that they kissed doesn't necessarily mean they're back together. People kiss their exes without getting back together with them all the time. Posting couple-y pictures with them and dressing in matching Halloween costumes with them in addition to the kiss? Well, that's a lot. But who knows?!
To be fair, both Rae and Hall have sort of left the door open for a potential reunion. "We were talking and kind of like, on and off, just trying to figure things out," she told Entertainment Tonight back in February. "I'm also, like, very new to this and he's been in this industry for a really long time. Things happen and then we just decided we're better off as friends for now because we both have totally different lifestyles right now. Not necessarily just apart from social media, just kind of like, we're both looking to branch off into different things."
She continued, "Right now, we're just better off as friends. We mutually decided that... We support each other 100 percent."
So, maybe now the timing is finally right for them to try being more than friends?